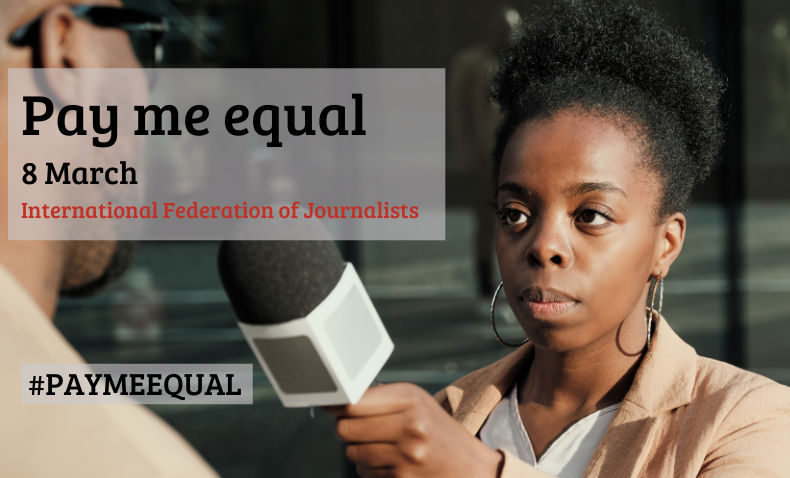 The International Federation of Journalists (IFJ) has launched a global campaign #PayMeEqual to mark International Women's Day on 8 March, urging media across the world to conduct pay audits in their newsrooms and to act to tackle the gender pay gap.
Equal pay means that women and men should receive equal remuneration for work of equal value. The global gender pay gap is estimated at 23%.  It means that women earn on average 77% of what men earn. 
Journalism is no exception to that injustice. The gender pay gap is not linked to women being less qualified but rather to their access to highly paid positions being limited.
In January 2020, BBC presenter and member of IFJ afffiliate, the National Union of Journalists (NUJ), Samira Ahmed won a landmark equal pay victory against the BBC for being paid six times less than her male counterpart.
Obstacles to equal pay also include the lack of shared parenting responsibility and the fact that too few collective agreements have been adopted with solid provisions on reducing pay inequalities between women and men and balancing work and family life. 
In addition, women have been disproportionately affected by the current Covid-19 crisis which is exacerbating the gender inequalities that existed before. Many attempts to achieve equal pay, either through legislation or in negotiations have been frozen.
For many journalists unions the absence of gender disaggregated data and pay transparency in media are major barriers to bargaining to reduce pay inequalities. 
"We need concrete pay audits in newsrooms to help close the gender pay gap", said IFJ Gender Council Chair Maria Angeles Samperio. "Too few media companies provide for full transparency regarding pay and bonuses and it is our job as unions to hold them to account and disclose wages to evaluate whether all media workers, irrespective of their gender, receive equal remuneration for work of equal value".
The IFJ is launching a global survey together with Wageindicator to document the gender pay gap at a national level and support its affiliates in their call for equal pay. This survey can also be used by individual journalists to compare their own wage to those in the profession holding similar positions.
"This survey is going to help our affiliates fight for equal pay and opportunities", said IFJ President Younes Mjahed. "Lodging a complaint against one's employer for unfair payment or discrimination requires courage and we must make sure unions are fully equipped and structured to support their members in this task".
Other measures to close the gender pay gap in journalism include the development of family-friendly workplaces, legislative change to improve pay transparency, for example, through company level pay audits, pay surveys, equality plans and income reports.
BH Journalists joined IFJ global campaign with the same request – that female journalists and other female media employees in BiH have the same salaries as their male colleagues.