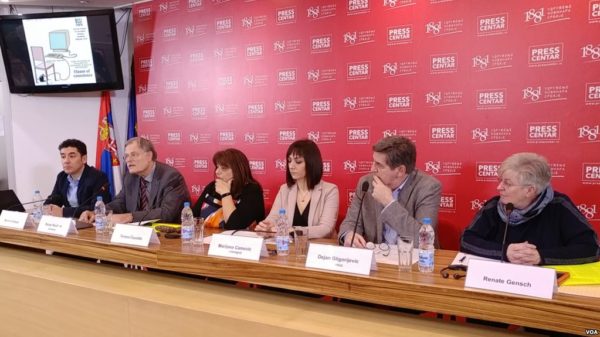 BELGRADE, 13.02.2019. – Charter of the European Federation of Journalists (EFJ) on the working conditions of media professionals in South East Europe and Turkey was presented in Belgrade as and non-binding instruction for improving the working conditions of journalists, and was signed by 14 Journalists Associations, trade unions and associations associated to EFJ.
The document is opened for signing for all journalists associations, private and public media, as well as the authorities. The signers are obliged to improve working conditions and straightening journalists' and media professionals' labor rights in Europe, to fight against censorship and to promote free access to information and sources..
While presenting the Charter in Belgrade, project leader Mehmet Koksal pointed out that the charter consists of 10 articles that summarize the basic principles related to the freedom of association , right on a written contract, right on collective bargaining, prohibiting discrimination in working relations, right on vocation and and being excluded from any engagement, right on protecting journalists sources, the right to refuse signing content, safety and protection, good management and ethical standards, and decent working conditions.
The Charter will be submitted to the European Commission in Brussels and the Council of Europe in Strasbourg in 2019 with the intention of becoming a reference document on the working conditions for journalists to assess the freedom of the media in the member states and candidate countries and to increase confidence among professional journalists and the public across Europe
The Charter idea was launched in 2018 as part of a project funded by UNESCO and the EU, entitled "Building trust in the media in South East Europe and Turkey", which is aimed on strengthening freedom of expression, access to information, free, independent and pluralistic media, it is determined that journalists and media are the main drivers of democratic, sustainable and peaceful development in the region.
The EFJ is the biggest journalists association in Europe that consists 320.000 journalists in 70 journalists trade unions and professional association from 44 countries.
Radio Slobodna Evropa, Beograd, 13/02/2019