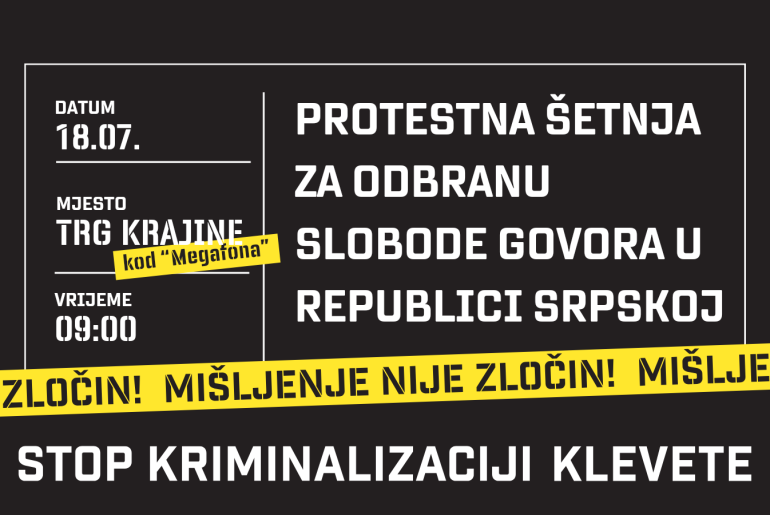 In order to once again point out their clear position, that they do not agree to the criminalization of defamation, journalists and activists are organizing a protest on Tuesday, July 18 at 9 a.m. at Krajina Square, next to the megaphone that was installed as a symbol of freedom of speech. After that, the gathered will walk to the National Assembly of Republika Srpska, where at 10:00 a.m. the session will begin where the vote will be taken on the criminalization of defamation.
Free media, citizens and activists oppose the proposed amendments to the Criminal Code of the RS because they lead to a narrowing of the space for public information, and the law as such would create a favorable environment for corruption and would reduce the transparency and responsibility of politicians and public office holders.
For months now, journalists and activists, international organizations, embassies and ambassadors have been appealing, warning and demanding the withdrawal of the aforementioned changes. It is interesting that the name of the person who wrote the amendments to the Criminal Code of the RS is still hidden from the public.
At four public hearings that were held just for the sake of formality, representatives of the Ministry of Justice of the Republika Srpska were presented with numerous arguments from the profession, journalists, activists and the public, both verbally and in writing, with a clear request to withdraw this law. At all four public hearings, the journalists demonstratively left with a clear position – give up the criminalization of defamation.
It is important to note that the criminalization of defamation is not only an attack on journalists, but also on every citizen of Republika Srpska who says or writes things that the authorities in Republika Srpska do not like. Therefore, we invite you to a protest to once again together point out the dissatisfaction with the proposed law that stifles freedom of thought and speech.
Written by: Melani Isović
Source: eTrafika