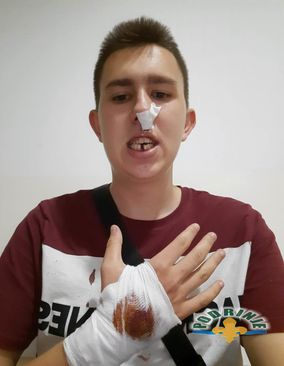 Sarajevo, June 27, 2023 – Steering Committee of the BH Journalists Association and the Free Media Helpline condemn the physical attack on Osman Mehanović from Bratunac, a UPS Media cameraman from Srebrenica, and demand from the relevant judicial authorities the implementation of legal actions that will result in the most severe punishment for the perpetrator.
Osman Mehanović was attacked late in the evening on Friday, June 23, 2023, in the parking lot in Bratunac, when three young men attacked this nineteen-year-old young man, beat him, and shouted nationalist cries: "Do you want us to slaughter you like we slaughtered you in Srebrenica?" After being treated at a local hospital, Mehanović gave a statement at the Zvornik Police Department, whose officers quickly established the identity of the attackers and handed them over to the competent prosecutor for further investigation.
The Steering Committee of BH Journalists considers physical violence and the spread of inter-ethnic hatred unacceptable, and in this particular case it is horrifying that the victim is an exemplary young man, who in his professional work in UPS Media and rock band represented completely different, humane and democratic values. We remind you that this is not the first hateful attack on employees of this media. Some time ago, Dragana Jovanović, the director of UPS Media, was also targeted by nationalists, against whom a media lynching  was organized through a local portal and social networks for several days, without any reactions from the police and judicial authorities.
The Steering Committee of BH Journalists once again calls on the police, judicial authorities and local authorities in Srebrenica, Bratunac, Zvornik and other towns of the Birač region to investigate and sanction with due care any form of violence against media workers, including this latest attack on cameraman Osman Mehanović. The impunity of violence against journalists and media crews supports repetition of violence until the work of the media in local communities is stopped and, ultimately, citizens are denied access to objective, fair and accurate information of public importance.
Steering Committee of the BH Journalists Association
Photo credit: Fokus