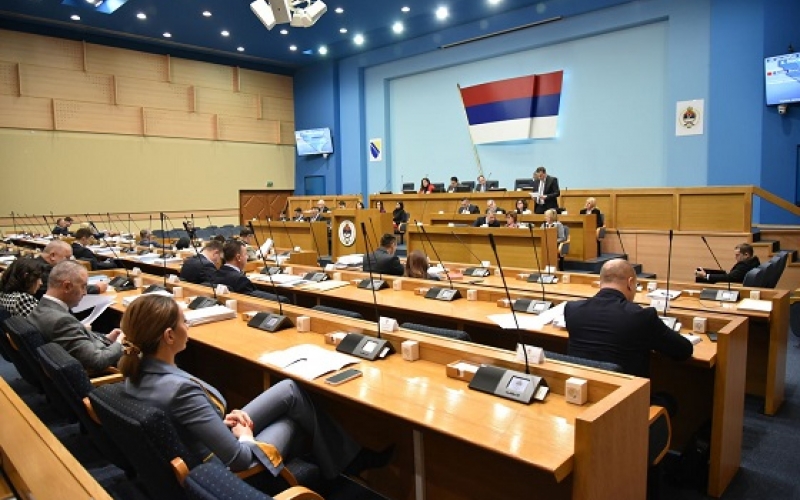 Sarajevo/Banja Luka, March 12, 2023. – The Steering Committee of the BH Journalists Association calls on the deputies of the National Assembly of Republika Srpska (NSRS) to reject the Draft Law on Amendments to the Criminal Code of RS at the session on March 14, and to request an expert opinion from the Venice Commission on the re-criminalization of defamation and the negative consequences of that process to freedom of expression and opinion.
The Steering Committee of BH Journalists reminds that the journalist community, the media, civil society and lawyers have warned of numerous shortcomings of the Government's proposal to recriminalize defamation: from violations of the RS Constitution and the European Convention on Human Rights, through procedural omissions and exclusion of the public, to generating fear and inciting violence against journalists and the media, through the unmeasured statements of president Milorad Dodik and individual members of the Government of the RS. The process of re-criminalization of defamation met with undivided condemnation from the journalistic community in Bosnia and Herzegovina, Europe and the world, as well as numerous international organizations with an influence on the protection of human rights and democratic values.
The aforementioned reactions seriously shook the hard-won candidate status of Bosnia and Herzegovina in the process of EU integration, within which media freedom and the safety of journalists are highly rated and represent a condition that the state must fulfill.
The Steering Committee of BH Journalists warns that the acceptance of the re-criminalization of defamation and the parliamentary debate on the Government's proposal would mean that the MPs of NSRS agree to the violation of the Constitution of the RS and the European Convention on Human Rights, as well as to stopping BiH's European path. On the other hand, by accepting the Government's unreasonable proposal, the MPs would show their voters in Republika Srpska that they support the introduction of legal repression against every citizen who dares to express criticism, dissatisfaction or disagreement with the ruling structures in that entity in their own home or in a public place.
The Steering Committee of BH Journalists therefore invites the representatives of the NSRS to, as members of the highest legislative body, request the opinion of the Venice Commission – an advisory and independent body of the Council of Europe, whose members are distinguished experts in the field of the rule of law and the protection of democratic values. Their opinion can help NSRS in finding the best solutions for the balance of two rights: that of enjoying media freedom and freedom of expression, receiving and disseminating information without censorship and violence against journalists, on the one hand, and providing legal guarantees to protect the reputation, honor and privacy of every person , on the other side.