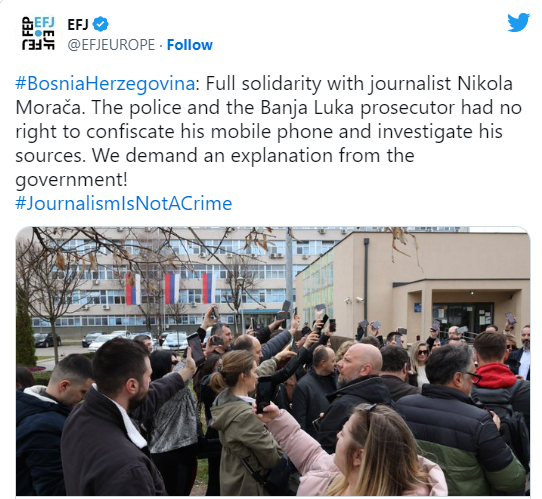 Sarajevo, 02.03.2023. – The European Federation of Journalists (EFJ) joined the BH Journalists Association (BHJA) in condemning the police interrogation of SrpskaInfo portal journalist Nikola Morača in Banja Luka.
Journalist Nikola Morača's phone was confiscated after he refused to reveal his sources during interrogation at the Banja Luka Police Station on February 24, 2023.
Nikola Morača was interrogated in Banja Luka Police Department for the author's text about the rape of an 18-year-old woman, for which one person is suspected. On that occasion, the police inspectors on duty demanded from the journalist to reveal who gave him the information about the person suspected of rape, they took away his mobile phone and forced him to sign that he was "voluntarily" handing over his own phone to the police.
The EFJ states that the police threatened Morača, telling him that he would become a witness in a criminal case if he did not give them the information they were looking for.
"This is a egregious example of institutional pressure on a journalist, as well as an impermissible and disproportionate threat to  his right to freedom of expression and informing the public about the  case of the rape of an eighteen-year-old girl," said Borka Rudić, General Secretary of the BHJA, reports EFJ.
The European Federation of Journalists characterized this case as an "appalling attack on the protection of sources".