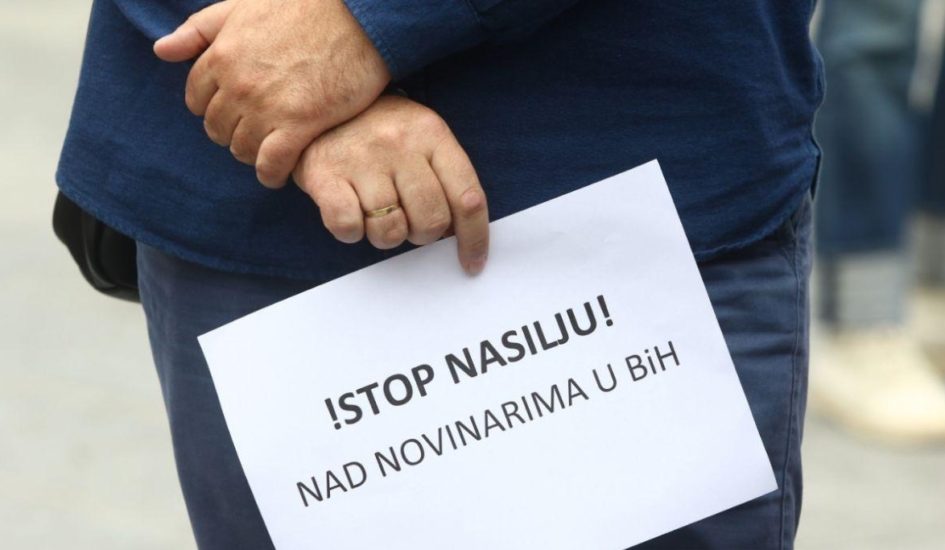 Sarajevo, 27.02.2023. – The Steering Committee of the BH Journalists Association expresses its concern over the increasing number of reports to the Association and our Free Media Help Line (FMHL) regarding verbal and online attacks on journalists, the spread of hate speech against journalists and media outlets through social networks, threats of death and physical violence and threats to media freedom by police institutions and judicial authorities.
After journalists of Euroblic and Srpskainfo portal in Banja Luka were interrogated by the police last week and forced to reveal their sources of information, Žurnal journalists were threatened, and certain politicians publicly verbally attacked journalists, BH Journalists received two more reports of threats and the spread of hate speech on social networks against journalists.
After interviewing the president of the Party of Democratic Action (SDA) Bakir Izetbegović in Pressing on February 22, the editor of N1 television in Bosnia and Herzegovina, Amir Zukić, was exposed to brutal attacks, insults and threats on social networks by numerous supporters of SDA, as well as some high-ranking members of that party. Among others, a prominent member of SDA party and MP in the Sarajevo Canton Assembly, Faruk Kapidžić, accused Zukić on his Facebook profile of being "paid to promote lies" and called him a "tuned" Bosniak, which caused a series of insulting comments from Kapidžić's FB followers.
At the same time, the editor of Istraga.ba portal, Avdo Avdić, was threatened with physical violence by some sympathizers of Narod i pravda (NiP) party after he published an article about the Mayor of Ilidža Municipality, Nermin Muzur.
The Steering Committee of BH Journalists demands an immediate reaction from the competent institutions – the police and prosecutor's offices – in all the cases mentioned, detailed investigations and the sanctioning of the perpetrators in accordance with the law! Also, we call on the SDA and NiP presidencies to, in accordance with their ethical codes and internal regulations, sanction their members who threaten and incite hate speech against journalists on social media, and by that send a message to their sympathizers and the entire public that threats and violence against journalists must be stopped and that such behavior will not be tolerated!
The Free Media Help Line and BH Journalists will inform all relevant institutions about these cases and about the increase in the number of attacks and pressures on journalists, including the OSCE, the Delegation of the European Union to BiH, the Institution of the Ombudsman for Human Rights of BiH and diplomatic and consular missions in Bosnia and Herzegovina.