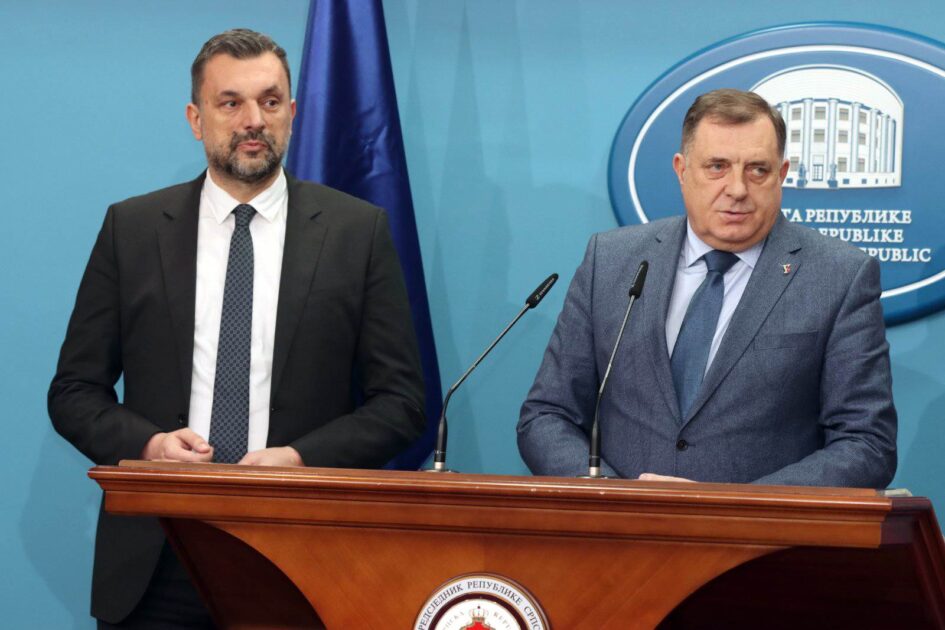 Sarajevo/Banja Luka, 24.02.2023. – The Steering Committee of the BH Journalists Association calls on all holders of political positions in Bosnia and Herzegovina to stop name-calling, labeling and verbal attacks on journalists and the media outlets! This type of behavior represents open political pressure on the media and restriction of freedom of expression, which is not in accordance with democratic principles and values.
In the past two days, the minister of foreign affairs of BiH and the president of Narod i Pravda (NiP) party, Elmedin Konaković, and the president of the Republika Srpska and the president of SNSD party, Milorad Dodik, verbally lashed out at the journalists of Klix and BN Television, solely because the journalists did their job professionally – relayed their statements and asked them questions at press conferences!
After portal Klix reported about the statement he made at the press conference in Zagreb, minister Konaković directly called out the journalist of this portal, Senja Mahinić, saying that Mahinić is "intrigued to make a story" out of everything he (Konaković) "does personally". Konaković went a step further in his desire to "teach" journalists how to do their job, and said that before they publish his statement, which was publicly broadcasted and directly transmitted via television, they should first call him to confirm that he really said what he said?!
At the same time, Milorad Dodik verbally attacked BN TV journalists at a press conference in the RS Government building on Thursday. When asked by a journalist about the abuse of public functions, Dodik, instead of answering, told her that the word "fraud" should be next to her name. When journalist Vladimir Kovačević, who survived an assassination attempt in 2018, reacted to his insults, Dodik told him to "heal his frustrations somewhere else". After that, Dodik called BN journalists Tijana Milinković and Milan Kovač "paranoid" and prevented them from asking him more questions.
The Steering Committee of the BH Journalists Association reminds that this is not the first time that Dodik and Konaković, without any reason, verbally attack and publicly target certain journalists and media outlets. In both cases, the journalists did their job in full accordance with professional norms – they reported on the politicians' statements and asked them a few questions. It is unacceptable and reprehensible that Elmedin Konaković and Milorad Dodik "invoice" their own unprofessionalism, nervousness and recklessness when making certain statements to journalists and the media who only report on it.
The fact that such verbal attacks and false accusations against journalists are becoming more and more intense and aggressive is particularly worrying in the period when in Republika Srpska, according to the directive of Milorad Dodik, changes to the law by which defamation will become a criminal offense are being prepared. Unfortunately, some politicians in the Federation of BiH don't hide their desire to re-criminalize defamation in that entity as well, all so that they can threaten "disobedient" journalists with prison sentences if they report in a way that they don't like.
We remind that the freedom of the media and the safety of journalists are one of the fundamental conditions for Bosnia and Herzegovina's accession to the European Union, for which both Dodik and Konaković are declaratively advocating.
Steering Committee of the BH Journalists Association