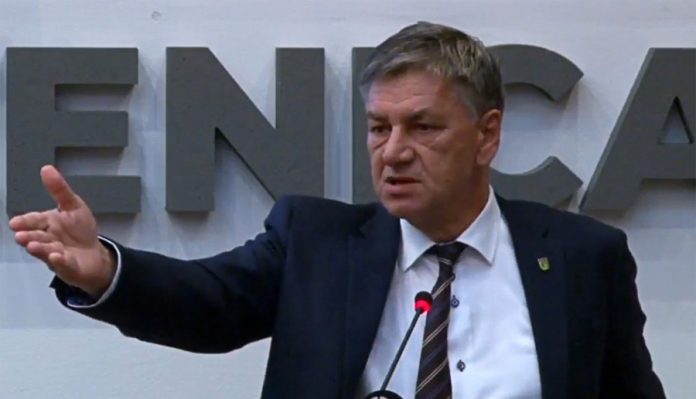 Sarajevo, 10.02.2023. – The Steering Committee of the BH Journalists Association strongly condemns the public call of the mayor of Zenica, Fuad Kasumović, to citizens not to pay the RTV tax for the public services Radio-Television of Bosnia and Herzegovina (BHRT) and Radio-Television of the Federation of BiH (RTVFBiH).
During the last session of the City Council, held on Wednesday in Zenica, Kasumović asserted that in the past seven years, since he has been in office as mayor, "not a single positive story has been made" from Zenica on the mentioned public services and he called on the citizens of Zenica not to pay the RTV tax, "just as neither the Čović's nor the Dodik's people pay". Kasumović admitted that he himself doesn't pay the RTV tax and said that the federal and state public service are "SDA televisions".
The Steering Committee of BH Journalists emphasizes that such statements by Kasumović represent a direct call to disobey the law, which is incompatible with the public position of mayor that he holds. This is not the first time that Kasumović calls for non-payment of RTV tax, as well as labeling journalists and editors of public services whose reporting is not to his liking.
The Steering Committee of BH Journalists deems unsubstantiated claims about the editorial policy of the public services BHRT and RTVFBiH as inadmissible, as well as constant attempts to professionally disqualify journalists from Zenica who report critically on the actions of the city government, led by mayor Kasumović. We remind that political pressures on media and journalists-correspondents of public services from Zenica, interference in editorial policy, making a list of "eligible" and "uneligible" journalists, denying the right to access information and public events, are only part of the inappropriate and undemocratic methods of stifling media freedom in this city, which have continued with undiminished ferocity and continuity since 2016.
The Steering Committee of BH Journalists calls on the councilors of the City Council of Zenica to publicly distance themselves from the aforementioned statements of mayor Kasumović, aimed at the targeted destruction of the professional integrity of journalists and editors of public services, as well as correspondents of these media from the Zenica-Doboj Canton.