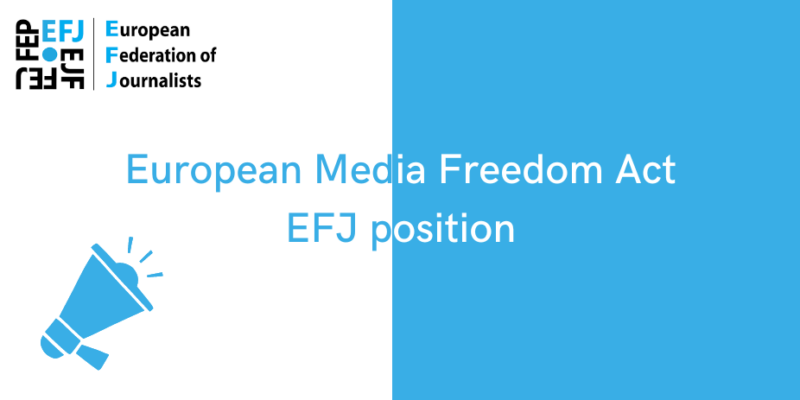 The European Federation of Journalists (EFJ) publishes its position on the draft proposal for the  European Media Freedom Act (EMFA), which was adopted by its Steering Committee in Brussels on 13 January.
While we welcome the European Commission's initiative to strengthen the free and pluralistic media system, and the commitment to protect journalists and editorial independence within the European Union, we stress the importance of a more robust protection of both media freedom and editorial independence.
In its position, the EFJ proposes urgent amendments which are crucial to be included by the co-legislators, the European Parliament and the European Council, as only a strengthened Media Freedom Act can fulfil its proclaimed promises.
The most important points are:
The need to adopt a forward looking inclusive definition of media and media service providers in line with International standards;
The improvement regarding protection of sources of journalists and deployment of any spyware to be in line with International standards;
The need for a binding common and clear rules on transparency of media ownership to ensure meaningful transparency so important for trust in journalism;
The strengthening of safeguards on independence of National Regulatory Authorities;
The need to guarantee of full independence of the European Board for Media Service from the European Commission;
The assessment of public interest tests of media mergers as a minimum action by the board and with civil society and journalists' organisations involvement. This is pivotal to fight media capture by media moguls and oligarchs who follow their own agenda but not the public interest journalism;
The need for a better enforcement of existing and newly established media rules.
"Today, the sustainability of free media is threatened in many EU countries, and the European Media Freedom Act proposal is a significant step in strengthening media independence and pluralism. We are advocating for numerous changes to be made. By accepting remarks and proposals from journalists' organisations, a strengthened EMFA can contribute to the defence of journalism as a public good," says the president of EFJ, Maja Sever.
Only a revised text taking into account aforementioned points can efficiently contribute to the defence of journalism.
(Source: EFJ)