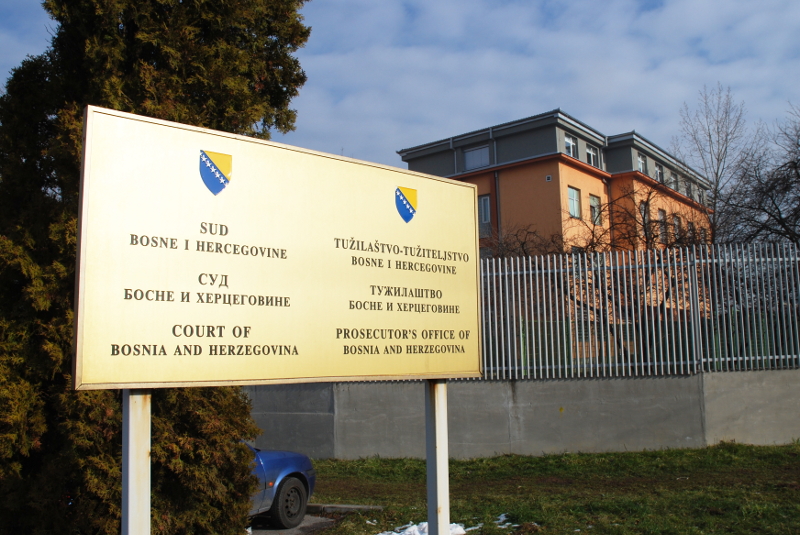 By: Marjana Popović            
It has been a while since more talks (than ever before) emerged in public, regarding the importance of creating, designing and passing certain documents than it was the case with the Communication Strategy by High Judicial and Prosecutorial Council of BiH. It was the document with high level and degree of priority, related to the HJPC work, during 2020 and 2021. At the same time, it remained in the focus of interest and attention by the entire judicial and media community and international and partners' organizations that, during final and "detailed elaboration" of its framework, with possibilities to, by applying certain comments, recommendations and suggestions, have made an impact on entire and comprehensive quality of the document itself.
The task given to all participating parties, involved in this particular process, particularly concerning the Working Group Members in charge with creating and designing Communication Strategy and its action plan, was not simple at all. On one hand, the remains of weak and insufficient transparency system was to be rejected and dismissed, and, on the other hand, Working Group Members were expected to reply and respond to more demanding and powerful request imposed by democracy with an increasing level of maturity required for openness, and in regard with requested conduct between the system itself and general public. Finally, through such document, one of the most fundamental principles, upon which the quality of public sector was founded and based on, was to be materialised; namely, the principle of TRANSPARENCY.
Information availability
In this specific context, I believe, it would be a good idea to recall that public sector, including judicial system, as its fundamental and constituent part, may genuinely appear as public service, especially if one of its basic pre – requisites and pre – condition is met and fulfilled and which is required for its full functionality. This pre – condition is a complete transparency in all works included for which public sector (judicial system) is entrusted by general public. It is a well – known and common fact that public sector systems and judicial organisation have been different from each other. However, what is common to all countries that have truly been eager to reach highest level of democracy, is the fact that there have been procedures that should ensure that their citizens could, at any given time, be familiar and aware of what holders of public functions and officials were doing and how they manage official procedures, that is, how they spend the money financed by the system itself.
The above mentioned universal understanding and comprehension of transparency, in terms of public sector, represents one of the most important characteristic of the rule of law; because where the rule of law is implemented (mostly due to judicial institutions above anything else), there is a principle – based relationship and conduct towards the public with the purpose of having the public become aware and familiar with key and crucial information concerning the wok of judicial system. This mostly concern key and crucial information that should be available in the first place! How to achieve this?
It may be achieved through continuous and open communication with citizens, media representatives, non – governmental organizations and all other subjects having a legitimate interest to be provided with relevant information, regarding the work of judicial institutions and their work. Why? The answer to this question is simple: So the general public could have the trust in our judicial system restored once again and advanced.
These entities represent wider definitions for two roof tasks concerning Communication Strategy that have also displayed foundations required for additional elaboration of basic and specific goals requested. The tasks include:
Accomplishing full transparency of the HJPC of BiH, including the entire judicial system and
Advancing public trust in judicial system in BiH.
Some could question the term "full transparency" as well. Namely, the public is aware of the fact that certain steps forward, regarding the advancement of the HJPC of BiH transparency, have already been taken. Meeting sessions, except for specific and rare agenda, during which the privacy of personal information could be jeopardised, are open to public and any citizen that shows interest for this issue; including public representative concerned with sustaining public interests; namely a journalist, could  follow these meeting sessions. Disciplinary hearings covering the discussions concerning disciplinary responsibilities are also open to public. The point is to express highest possible level of transparency during the process of appointing, as well as during the process of other key competence of the HJPC of BiH.
We receive information from the field that courts and prosecutors' offices make an effort to provide better quality – based information regarding both, general work by judicial institutions and cases that public show interest in, to the extent which would not jeopardize prosecutors' conduct and court procedure respectively. We shall not ask whether the representatives of external public are satisfied with the scope and quality of provided information and with this level and degree or transparency. Instead, we should ask ourselves whether we could do more in order to advance the transparency; that is, could we get the ideal of "full" transparency closer? We certainly could! This is why we prepared Communication Strategy so it could serve as symbolic, but also theoretical and practical, reminder for all of us that we could and should make additional effort and do more as far as this issue is concerned. Additionally, we created and designed Action Plan regarding the implementation of Communication Strategy so the Strategy's content would not become a "cold fact on paper", but rather go "from words to deeds" consequently. We would also engage representatives of our judicial community, including judges, prosecutors, official, advisers, experts and particularly court presidents and chief prosecutors, by using their reputation, protect independence, to be unbiased, to act professionally thus protecting the integrity of judicial system. They should also, by using their personal and professional integrity, make unmeasurable and significant contribution, providing thus every single citizen with a possibility of having equal access to justice and to have all citizens equal before the law by all means. Finally, we expect them no to enhance, but rather to concrete over the rule of law in Bosnia and Herzegovina.
Integrity and conflict of interests
The term "integrity" has been mentioned just before the end of this particular essay regarding the Communication Strategy of HJPC of BiH; however, we should not forget that communication itself becomes pointless (mere discussions for no particular reason), if communicators, subjects and communication objects, have no personal and professional integrity. INTEGRITY was given a significant role by the HJPC of BiH, making, above other things, a direct co – relation between communication and integrity through Communication plan, regarding the field of ethics, integrity and prevention of conflict of interests which was recently passed by the Council as annexed (additional) part of Communication Strategy and which is, in the forthcoming period, expected to be implemented through activities by which the awareness, concerning ethic issues and questions regarding professional integrity, shall be placed as top priority in relation with quality – based functioning of judicial system.
I was not concerned about the details of Communication Strategy, being at the same time convinced that those that showed interests for this specific issue shall visit our web site and read the content of Strategy. Personally, I sincerely hope that "communication"' activities that are expected to be implemented and conducted shall produce results where our citizens would regain and increase trust in judicial system of our country. At the end, I'd like to thank all media organizations and houses, including BH Journalists Association, for making, along with several international organizations, a vast contribution in creating and designing Communication Strategy by HJPC of BiH. Accordingly, we hope for more prosperous cooperation in terms of Strategy implementation.
(The author of this text/article is Head of Cabinet of the HJPC of BiH Presidency. The article is published in 79th edition of E-journalist bulletin).