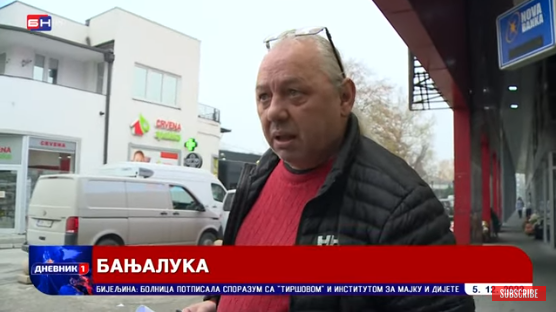 Sarajevo/Banja Luka, 06.12.2022. – The Steering Committee of the BH Journalists Association and the Free Media Help Line (FMHL) strongly condemn yesterday's verbal attack on BN Television crew in Banja Luka and demand from the Ministry of Internal Affairs (MUP) of the Republika Srpska to urgently investigate this case and find the perpetrator.
During the filming of the poll in the city center, the BN Television crew was approached by an unknown man and began insulting them with curses and provocations, telling them that they were "receiving American money". A BN cameraman recorded the entire incident on camera and the footage was handed over to the police, along with the report of the attack. The case was also reported to the Free Media Help Line.
The Steering Committee of the BH Journalists Association and the FMHL emphasize that such verbal attacks on journalists by citizens are a direct consequence of the statements of the highest political officials in the Republika Srpska, particularly the president of that entity, Milorad Dodik, who continuously accuses media outlets of being foreign mercenaries, spies and financed by certain embassies, as well as to work on the "demolition" of the RS.
Such statements by politicians create an extremely hostile atmosphere towards journalists and the media in the public and many citizens, in accordance to the politicians' publicly expressed views, believe that they can attack journalists with impunity and endanger their safety while working in the field.
Once again, we emphasize that verbal and physical attacks on journalists are unacceptable and that competent institutions, primarily the police and prosecutor's offices, must work effectively to sanction perpetrators in accordance with the law. We must not allow "street fights" with journalists to become a practice, nor for politicians to openly target those journalists and media outlets whose editorial policies do not suit them.
Steering Committee of the BHJA/Free Media Help Line