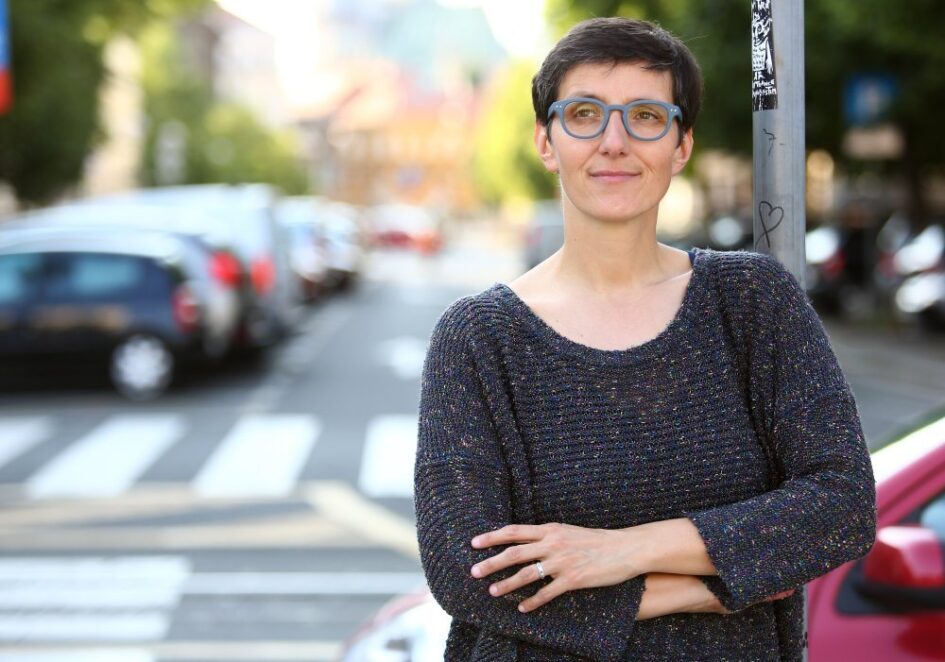 EFJ President Maja Sever reflects on the attack on her on 1 August in the bay of the island of Tijat in Croatia
The story is quite simple. The inhabitants of the village where I spent my summer holidays, on a small island on the Adriatic coast of Croatia, are revolted by what they describe as the devastation, usurpation and illegal use of the bay of a neighbouring islet. They are fighting to preserve the site through legal means, but the atmosphere has been tense and unpleasant for several years.
Only recently has the story made its way to the national level, and I have spoken to several journalists about it. A colleague from the online newspaper Index.hr informed me on the morning of 1 August that the owner of the restaurant on the islet had told him that the establishment was being closed down by the authorities. The colleague asked me if I could let him know if this was true and send him a photo.
A journalist is still a journalist. It is not unusual for us to work even on holiday. And personally, since my editors at Croatian public television cancelled my programme and limited my journalistic work, I often use social networks to publish information, comments or analysis. More than once, the media have picked up my tweets or certain posts, whether my editors and those in power like it or not.
So I got into my little boat that day, took my friend and we went to the bay. We didn't even go near the pier: seeing that there was a police boat and that the restaurant seemed to be closed, I took some pictures, mainly of the police boat. I concluded that the owner of the restaurant had indeed told the truth to our Index.hr colleagues. So I turned around and went back.
Two people I didn't know started shouting from the pier, gesticulating in a vulgar manner and rushing after us on a rubber speedboat. One of them jumped into my boat, threatening to throw us overboard, to erase the photos. He ripped my mobile phone out of my hand.
I went to the police boat and immediately reported the attack. After being questioned on the same boat as the attackers, I asked the policeman to give me my mobile phone back and let me go home. I would be lying if I said I wasn't afraid. The first, intuitive reaction was to go home, cover my head with a blanket and wait for it to pass.
I often spoke to my colleagues after they had been attacked or abused online. Specifically, I have often persuaded them to report any threats to the police. This feeling of just wanting it to go away is familiar to many. Some of the colleagues who have been attacked have closed their social media profiles. Others don't want to report to the authorities because they don't want the story to continue or escalate… And I understand them.
But the fight against abuses and attacks against journalists is important, and we need to build together a system of protection, which must be based on an effective mechanism of prompt reporting, timely and professional reaction of the police and prosecution, and protection of the victim.
The issue of protecting the safety of journalists is high on the agenda of the European Federation of Journalists (EFJ) and its affiliates. We are developing plans to strengthen offline and online safety, including through dialogue with the police.
One of the EFJ activities in this area is the European project Safety4Journalists, in which journalists' unions in Croatia (TUCJ), Germany (DJV), Sweden (SJ), France (SNJ-CGT) and the Netherlands (NVJ) are participating. The aim is to strengthen media workers' organisations to promote health and safety at work, to develop a universal risk assessment model and to exchange best practices on protection.
In some countries, including Croatia, an attack on a journalist is considered an attack on a public official, with increased potential criminal sanctions. However, there is still a lack of public awareness of the threats and risks, the need to establish protection systems and strategic safety policies for journalists and media workers. In fact, journalists are increasingly facing risks while working in more and more hostile environments.
The task of journalists' unions and organisations is to empower journalists to respond to attacks, to give them the means to identify any form of aggression and to help them respond appropriately to all forms of attack and abuse. Provide them with legal and human support. We therefore call on the relevant institutions to set up a system of protection of journalists against attacks that includes recognition of the criminal act of aggression, protection of the victim and prompt prosecution, as well as cooperation with the prosecutor's office.
Examples of good practice exist in some European countries, such as the Netherlands, where the authorities and the national association of journalists cooperate to better ensure the safety of media workers, especially in the context of covering demonstrations. At the European level, the Mapping Media Freedom rapid attack reporting system (MFRR) works well. In its 2021 report, 626 alerts were documented, ranging from verbal attacks to legal harassment. These alerts involved 1,063 individuals or media entities in 30 countries. Violations found included the murders of three journalists: investigative journalist Peter R. de Vries in the Netherlands, reporter Giorgos Karaivaz in Greece and local radio host Hazım Özsu in Turkey. More recent data includes Ukraine, where 12 journalists have been killed in the line of duty since February.
Another important tool is the Council of Europe's Platform for the Protection of Journalism, which identifies and details more than 1,300 press freedom violations, including 46 murders of journalists, since 2015, in Europe.
Efforts to establish strong and effective arrangements to protect the safety of journalists are paramount to the defence of journalism as a public good, to the preservation of our profession. It is therefore important to always find the strength to react to attacks, not to cover our heads with a blanket and wait for it to pass or to deactivate social media profiles. For the sake of a common goal, it is important to denounce abusers, demand prosecution, inform journalistic organisations and use all the tools at our disposal, not only for our personal protection but also for a wider interest.
The police have arrested the thugs on the island on the Adriatic coast. Criminal proceedings have been initiated and one of them has been issued with a restraining order. On social networks, some said that this would not have happened if they had attacked a shop assistant. Well, precisely because of the shop assistant and all the other people who are or will be attacked or abused by bullies, it is our duty to build an effective protection system, to fight for a change in the attitude of the whole society towards this problem.
We must demand political and public condemnation of attacks on journalists, effective and transparent investigation of every case that endangers the safety of journalists, an end to impunity for attacks on journalists and full respect for the freedom of work and safety of journalists at all levels.
Our work is a public good, even if we sometimes pay a high price for it. Our work has the ultimate goal of changing society and the world for the better. That is why this struggle is important. That is why it is important to denounce all those who try to intimidate journalists.
Author: Maja Sever