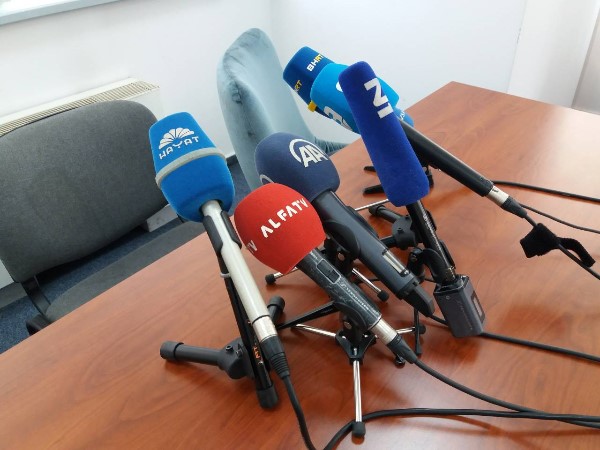 Sarajevo, 9 August 2022 – The BH Journalists Association appealed to media workers in Bosnia and Herzegovina to report any type of political, interest or ideological pressure, threats or intimidation to the Free Media Help Line (FMHL) of the BH Journalists Association, as well as to the competent police and judicial investigative bodies.
The Association made this appeal prompted by heightened tensions in the public space and the experiences of earlier pre-election periods, marked by pressure on journalists in Bosnia and Herzegovina.
"The time ahead will be challenging for the journalism profession. The strengthening of nationalism, political manipulation, ideological confrontations and threats are just some of the phenomena that we can expect in the pre-election period. We are witnessing the above mentioned already today, and even stronger radicalization of the public communication space will follow during the period of the official election campaign in September. The leading national leaders have already dragged a number of media outlets into their political games, treating them as a powerful tool of political and nationalist propaganda, rather than professional and objective reporting in the interest of the entire public", said the BH Journalists Association.
The Steering Committee of BH Journalists notes that we are also witnessing the uncritical transmission of statements by politicians, exasperated and so-called analysts and experts, as well as direct copying of their statuses from social networks into media content, without journalistic analysis and a pluralistic approach. Such actions of editors seriously question the public function and credibility of the media and deprive citizens of the basic human right to access objective, comprehensive and accurate information.
BH Journalists appeals to the media that, in the interest of the democratic development of this society, journalistic ethics and professional standards, in this sensitive time they choose interlocutors to whom they assign expert or informative space, to perform their work objectively, committed to peace, democracy and the rule of law, with a critical approach and equal distance to all interlocutors.
"We encourage you to remain a powerful force of social correction and to count on professional alliance and support", reads the appeal of the Steering Committee of BH Journalists.
BH Journalists and the Free Media Help Line created a network of 22 lawyers from all over of the country. Through BH Journalists, media workers can contact the network of lawyers and use free legal aid and professional assistance in cases of attacks, threats or attempts by political and national leaders to force them to work in their interests, and not in the interest of the public and citizens.