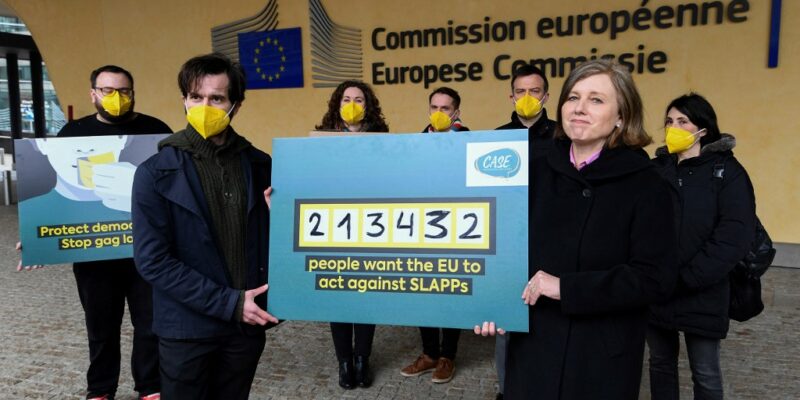 New measures to prevent legislation used to intimidate journalists and threaten press freedom have been announced in the United Kingdom. The European Federation of Journalists (EFJ) joined its affiliate the National Union of Journalists (NUJ) in welcoming a package of proposals from UK government clamping down on powerful individuals, who attempt to use strategic lawsuits against public participation (SLAPPs), to intimidate journalists and influence reporting.
Under the announced reforms, a new three-part test will be used in an early dismissal process to determine whether a SLAPP case can be struck out. The test will include an assessment of whether a case relates to a public interest issue, if any abuse of process has occurred, and a merit test assessing the likely prospect of success.
Proposals also include a cost protection scheme introducing a cap on costs, to prevent defendants facing high legal bills in lengthy court cases.
Michelle Stanistreet, NUJ general secretary, said: "The NUJ has long been campaigning at national and international level against the use of defamation legislation to crush journalists and journalism. Publication of these proposals is a significant step in tackling the deployment of SLAPPs and other forms of lawfare designed to stymie journalistic investigations. Abuse of the law by the sly and mighty, who deeply resent the legitimate work of the media in calling them to account, is a scourge which must be eradicated."
While plans are a welcome step in the right direction, the NUJ had hoped UK government would adopt calls for a low-cost arbitration scheme to settle genuine disputes.
Ricardo Gutiérrez, EFJ general secretary, said: "In April, we welcomed the European Commission package aimed at curbing the rise of SLAPPs in the European Union. We call on states to transpose this future directive, which focuses on cross-border SLAPP cases, but also to go beyond the directive by strictly regulating national SLAPP cases."
The NUJ and the EFJ will continue to oppose the use of SLAPPs and call for strengthened reforms including through the EFJ's seat on the Coalition against SLAPPs in Europe (CASE).
On 1 February, a petition with over 200,000 signatures that called for an EU directive against SLAPP suits was delivered to the Vice-President and Commissioner for Values and Transparency of the European Commission Vera Jourova.
In March, the CASE coalition published a report entitled "Shutting out criticism: How SLAPPs threaten European democracy"   based on data collected about 570 abusive lawsuits in 29 countries over the last 10 years. The report showed that journalists (34.2%), newspapers (23%), activists (9.8%), editors (9.5%), and others are increasingly being targeted by lawsuits in response to their efforts to hold the powerful to account.
(Source: EFJ)