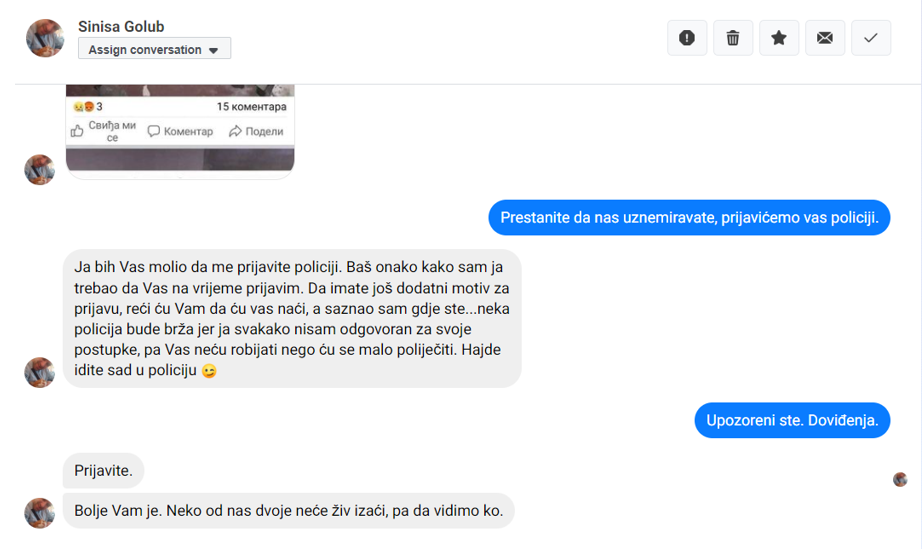 Sarajevo/Banjaluka, 20.07.2022. – The Steering Committee of the BH Journalists Association and the Free Media Help Line (FMHL) demand from the police authorities in Banja Luka and Republika Srpska, as well as from the District Public Prosecutor's Office of Banja Luka, to react urgently about the death threats sent by Siniša Golub to the editorial office of eTrafika portal!
ETrafika published the terrifying messages they have been receiving from Golub for months through the social network Facebook, after he requested the removal of the article from eTrafika portal, published four years ago. In the article, eTrafika journalists wrote about Golub, stating that he operated on pets illegally in his "home clinic".
In hateful messages, Siniša Golub announces "bloodshed" to the journalists and editors of eTrafika, referring to Albanian customary law, i.e. blood revenge. "Whether there will be forgiveness or blood, that depends on the legal system of our country and on you", Golub wrote in a message sent on May 4. After this, other messages followed (July 3 and July 13) in which Golub says that he knows where are the headquarters of this media and that they should "report him to the police" so that "the police would be faster than him", since he is not " responsible for his actions". In the last message, he demands again to "remove the false text" or "otherwise there will be blood".
Although these threats were previously reported to BH Journalists and Free Media Help Line and to the police in Banja Luka, who conducted an investigation and filed a report with the competent District Public Prosecutor's Office, it is incomprehensible that Siniša Golub is still free and continues to make threats.
Members of the Steering Committee of BH Journalists stress that due to the threats and endangering the safety of journalists, Siniša Golub would already be behind bars in any orderly, civilized country. In Bosnia and Herzegovina, it seems, there should be "bloodshed" so that the competent institutions react promptly and in accordance with the legal obligations to protect the lives of journalists!?
BH Journalists and the Free Media Help Line ask the police authorities and the Banja Luka District Public Prosecutor's Office to immediately, without delay, order a custody for this person and further process this case in accordance with the law. Journalists must not be the target of intimidation and brutal threats just for doing their job!