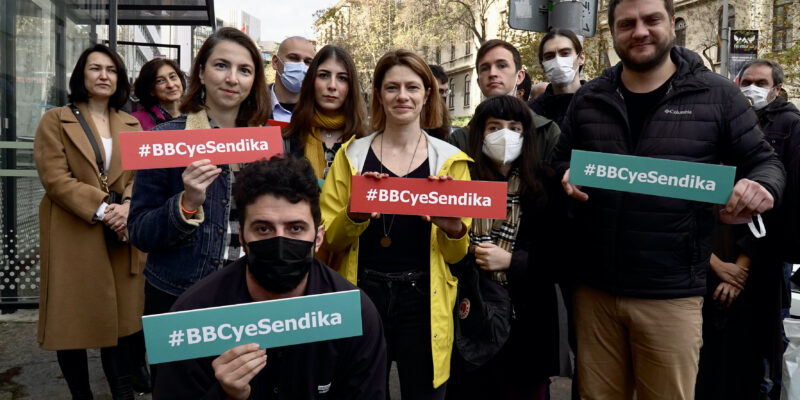 After roughly five months of negotiations, BBC journalists in Turkey are on strike after the British broadcaster refused to propose a reasonable offer to the Turkish Union of Journalists (TGS) over a pay rise that keeps up with the country's inflation rate, better access to health care, and other key issues. Their walkout is backed by the European Federation of Journalists (EFJ), the National Union of Journalists (NUJ) in the UK and Ireland, UNI Global Union and UK media union BECTU.
With the inflation rate as high as nearly 36 per cent according to the BBC, TGS is requesting a 30 per cent raise and an additional annual bonus payment.
Gökhan Durmuş, the President of TGS, said, "Our members are proud to work with the BBC's strong editorial values as part of one of the most respected media organizations in the world. They simply want to protect themselves, get compensation for the meltdown of their wages and have access to similar rights as other BBC employees."
"Their demands are reasonable, and the BBC can easily meet them without creating an additional burden on its own budget. Since January 2020, the British pound has gained 80 per cent in value against the Turkish lira. This means the employer has, in less than one year, gained 80 per cent from the salaries of our members who earn in Turkish liras."
Additionally, these journalists — who have been on the frontlines during the pandemic — are calling for private health insurance to ensure that they and their families can receive adequate care. They note that Turkey's public healthcare system is overwhelmed with Covid-19. However, the company has refused to ensure that staff have adequate access to care.
"The BBC's attitude is incomprehensible," said the EFJ President Mogens Blicher Bjerregård. "Together with our British and Irish colleagues in the NUJ, we call on the management of the British public broadcaster to end this discrimination and to support free and independent journalism in Turkey."
In addition to a wage with dignity and better access to healthcare, TGS members are also asking for allowances for transport, meals while at work, and the same pension system the BBC uses in the UK and other international offices.
(Source: EFJ)