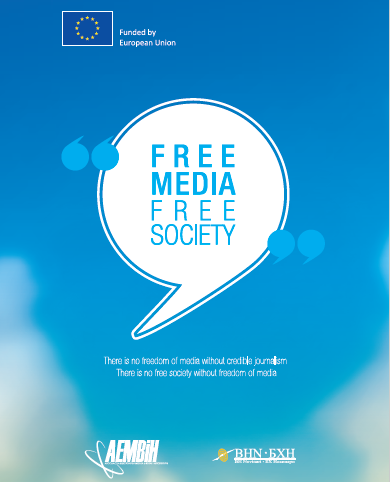 Sarajevo, 14 December 2021 – The  BH Journalists Association in cooperation with the Association of Electronic Media in BiH is organizing the Final Conference of the project "Free Media for a Free Society", which will be held on December 15, 2021 at 11 am at the Hotel Holiday. The project is funded by the European Union within the Civil Society Facility and Media action for BiH 2016-2017.
Censorship, pressure on editors, illegal appointments, violations of labor and social rights of media professionals – these are just some of the existing political strategies and skillful manipulations of local media with negative consequences for the quality and objectivity of media in local communities. Such behaviors are in direct conflict with European Union standards relating to the work of the media in the public interest and the well-being of all citizens in the community. Journalists and editors of local media are not strong enough to oppose these trends on their own, and legislation is broad and does not guarantee the prevention of political and other influences on the work of local media. Also, civil society organizations in Bosnia and Herzegovina do not have enough knowledge and capacity to advocate and promote media literacy, as well as to educate citizens on how to recognize information manipulation, political censorship and fake news.
The consortium, made up of the BH Journalists Association and the Association of Electronic Media in BiH, has launched a project with the slogan "Free Media for a Free Society", funded by the European Union to network media and civil society organizations into a strong professional group advocating for media freedom, and the safety of journalists in local communities.
In the past three years, the Project Consortium has: (a) conducted 5 serious surveys on the quality of media content in local media, working conditions and rights of journalists, and the level of media literacy of civil society organizations; (b) establish an Media Interactive Hub for the exchange of media content and advocacy for the independence and integrity of journalists, which will serve as a training ground on ethical and journalistic standards and investigative journalism; (c) establish an LAB for the production of media content; (e) strengthen the capacity of journalists and members of civil society organizations in local communities to create media content professionally and objectively, as well as to strengthen media freedom and the safety of journalists.
The aim of organizing the conference is to present the main achievements of the project "Free Media for a Free Society".