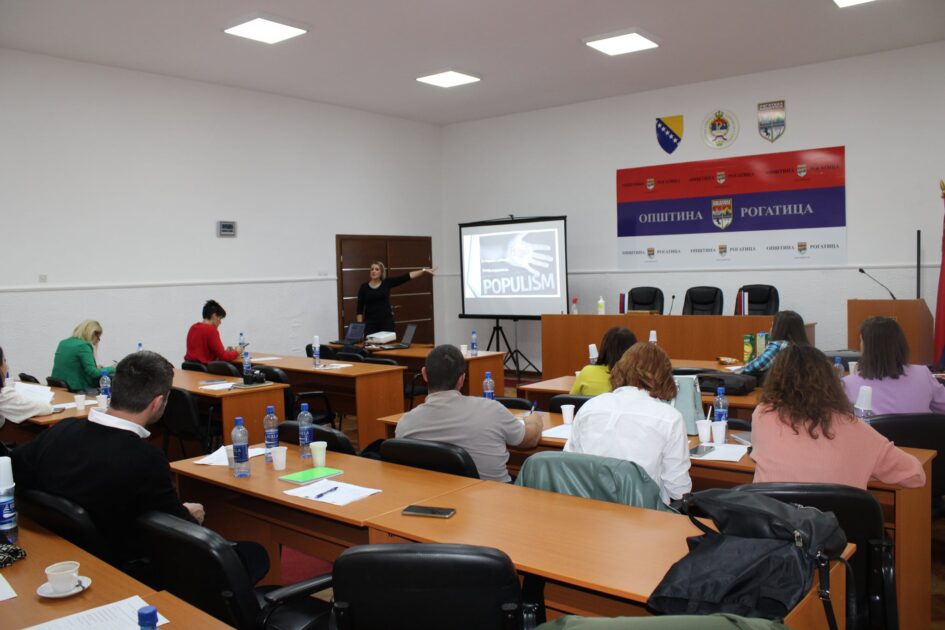 Goražde, 30.11.2021.- Workshops organized by the women's association "SEKA" Goražde in four cities of Eastern Bosnia were held during September and October as part of the project "Arguments in the virtual world – For better media literacy of the community!".
The project was implemented by the association during five months, from July to November 2021, and included about 80 participants from seven local communities in Eastern Bosnia. In addition to education, the workshops served to network local organizations and individuals with each other and with local media from Goražde, Foča, Rudo and Rogatica.
The participants in the workshop in Goražde were journalists, representatives of civil society organizations, educators and citizens from Goražde, Foča FBiH, Rudo and Višegrad, while the workshop in Foča gathered students from the Foča High School Center and journalism students from Goražde.
The workshop in Rogatica gathered participants from Rogatica, Gorazde and Sokolac, while in Visegrad the participants were high school students from Visegrad and Gorazde.
The trainers at the workshops were journalists: Elma Kazagić, Elvira Aganović, Aleksandra Janković and Igor Janković and IT expert Ahmet Hadžiahmetović.
Through concrete examples, the trainers introduced the participants to the basic concepts of media literacy, media development, characteristics of argumentative performances on the one hand and populism on the other. Participants were told what to look out for in order to distinguish fake news and misinformation from accurate information. Special attention is paid to the topic of security and protection of privacy on the Internet.
Given the fact that during the COVID-19 pandemic, children and young people became fully aware of online content, and that most of them experienced hate speech and encountered misinformation online, the workshops with young people specifically addressed the topics of argumentation, cyberbullying, protection privacy on the Internet, and the focus was on practical work and simulation of media appearances.
Within the project, two videos were created in which young people promote media literacy and raise awareness about misinformation, hate speech and propaganda, which is also the final product of the project.
The first video was made at a workshop in Foča and you can watch it here. The second video was made at a workshop in Visegrad and is available here.
The project "Arguments in the Virtual World – For Better Media Literacy of the Community!" is funded by the "Small Grants Program" within the project "Free Media for a Free Society", implemented by the BH Journalists Association in cooperation with the Association of Electronic Media in BiH, with the financial support of the European Union.