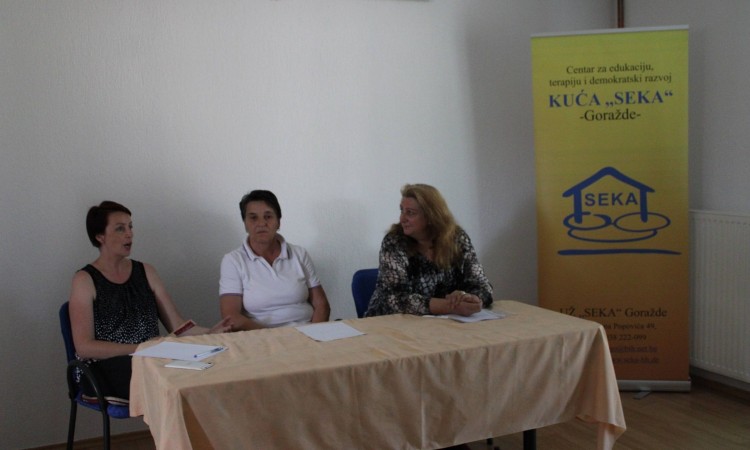 Goražde, 22.07.2021.- "Arguments in the virtual world – for better media literacy of the community" is the name of the project implemented by the Association "Seka" from Goražde, which aims to support the promotion of media literacy and preservation and protection of media in the local community and the Eastern Bosnia region. 
Project coordinator Delila Klovo Kajić points out that during the Covid-19 pandemic, a large number of citizens were focused on online content, and at the same time a victim of spreading misinformation about the pandemic in the virtual world, while media and media workers were exposed to hate speech.
"We noticed that a large number of clashes between politicians and public office holders began and ended on social networks, and most of them were accompanied by hate speech and negative comments. Also, children and young people were almost completely directed to online content during the pandemic and we got a touch-screen generation whose life is led on social networks where they often give too much information about themselves and their lives", said Klovo Kajić, adding that precisely because of all the above, there was a need for education on the protection of privacy on social networks.
The project envisages holding four educational workshops in Goražde, Foča, Rogatica and Višegrad, which will bring together students from nine local communities in Eastern Bosnia – Goražde, Novi Goražde, Čajniče, Višegrad, Rudo, Rogatica, Pale and Foča in FBiH and Foča ( RS).
"During the month of August, we will publish a public call for all interested citizens, primarily representatives of civil society organizations, then media representatives operating throughout the region and finally for parents who are interested in learning more about media literacy, and especially privacy protection on the Internet "- she specified.
The goal is to strengthen civil society organizations, connect the media, and emphasize the role of NGOs in promoting media literacy in order to easily distinguish information from disinformation, recognize hate speech and ultimately protect the privacy of social network users.
The project "Arguments in the Virtual World – for Better Media Literacy of the Community" lasts five months and is funded by the "Small Grants Program" within the project "Free Media for a Free Society" implemented by the BH Journalists Association in cooperation with the Association of Electronic Media in BiH, and with the support of the European Union.
Source: Fena / RTVBK