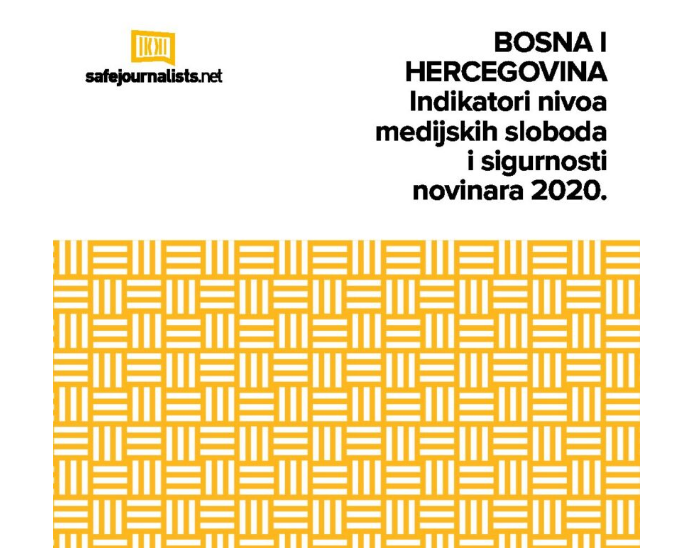 Sarajevo, July 15, 2021 – The report "Indicators on the level of media freedom and journalists' safety in BiH 2020", produced within the Western Balkans Regional Platform for Media Freedom and Safety (www.safejournalists.net) and with the support of the European Union, will be presented on July 16 in hotel Termag (Jahorina), organized by the BH Journalists Association.
During 2020, a total of 26 cases of attacks, threats and pressure on journalists and media in Bosnia and Herzegovina were registered, including 3 physical attacks, 6 death threats and 7 attacks and threats against media outlets. The Free Media Help Line (FMHL), which operates within the BH Journalists Association, recorded 69 cases of violations of journalists 'rights and media freedoms last year, including threats to journalists' labor rights, mobbing, defamation lawsuits and violations of the right to free access to information – these are some of the data from the Report.
In 2020 the most numerous were cases of threats and intimidation of journalists as well as various forms of pressures, which often came from representatives of government institutions. When it comes to threats and harassment, the number of cases of threats to journalists through social networks, hate speech and online violence has increased. In most such cases, the attackers will not be sanctioned. The passivity of institutions, above all prosecutors' offices and courts, opens space for new attacks and encourages those who believe they can commit violence without punishment.
More than 88% of public and private media outlets suffered financial damage during the pandemic, with the biggest losses related to revenue from marketing and other commercial activities.
According to the FMHL register, in the middle of last year there were 289 active defamation lawsuits against journalists and the media.
The report Indicators on the level of media freedom and journalists' safety in BiH 2020 is available HERE.