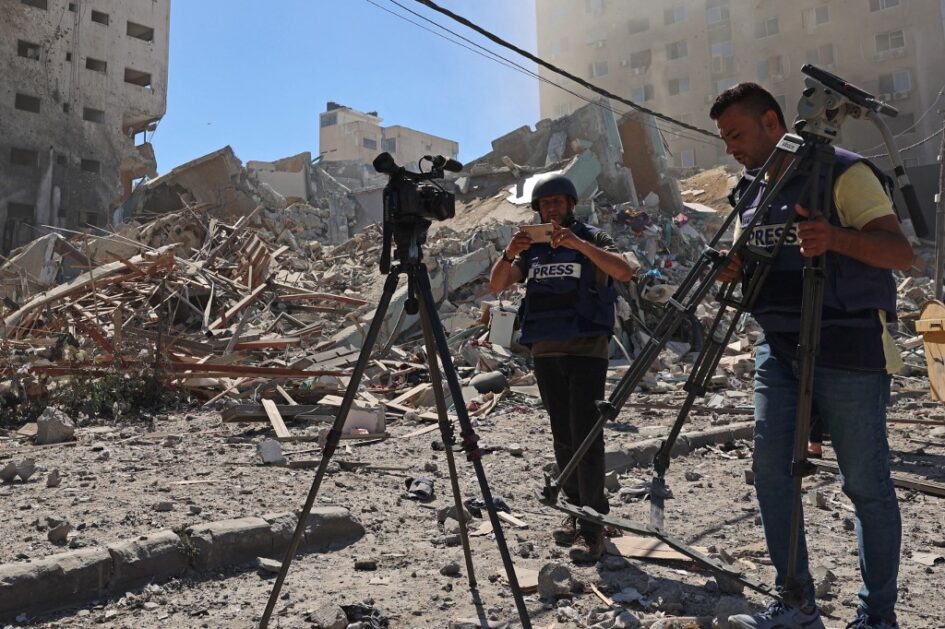 Credit: MOHAMMED ABED/AFP
Sarajevo, 19.05.2021. – The Israeli military has intensified its targeted attacks against media offices in Gaza. On 13 May, Israeli forces bombed the Al-Shorouk Tower, which hosts the offices and headquarters of 15 media institutions. The International Federation of Journalists (IFJ) and other media and journalists' organizations deplores the systematic attacks on media by the Israeli military and urges the international community to hold Israel accountable for its crimes against media freedom.
The IFJ strongly condemned the attack and called on the international community to take urgent action to hold Israel accountable for its crimes against journalists. In addition to the targeted bombings, the Israeli authorities have beaten and arrested media workers reporting across the West Bank.
The IFJ has repeatedly called on the Israeli government to investigate attacks and targeted killings of Palestinian media workers. The IFJ also denounced the situation to the United Nations, submitting formal complaints to the Special Rapporteurs in December 2020. The IFJ believes that the lack of transparent investigations and the rampant impunity for those who commit these crimes are a breeding ground for continued attacks against media across Palestine and Israel.
"The targeted bombing of media facilities is a shameful attempt by the Israeli military to silence media reporting of its violence in the Gaza strip and it violates international law. The deliberate and systematic targeting of media workers must stop. The impunity which those who deliberately attack journalists enjoy means media workers face an imminent further threat of being targeted. The IFJ will demand justice and an end to the threats in all local, regional and international spheres to ensure that none of these crimes go unpunished", said IFJ General Secretary, Anthony Bellanger.
The EFJ General Secretary Ricardo Gutiérrez stated that Israeli raids on the Gaza Strip destroyed 32 press offices and injured 10 journalists.
"The targeted buildings were in residential areas, without any military activity. These kinds of attacks are clear acts of terrorism against international and local media. By targeting international and Palestinian journalists, Israeli forces seek to impose censorship. This is a blatant violation of international law on the protection of journalists in times of armed conflict. We call on the Israeli government to immediately stop this senseless cycle of bloodshed, terror and destruction!" – Gutiérrez wrote on social media.
The BH Journalists Association joins colleagues from the IFJ and the EFJ in condemning attacks by Israeli forces on media outlets and journalists. No media or journalist in the world should be the target of military and political attacks and those responsible for these crimes must be severely sanctioned.