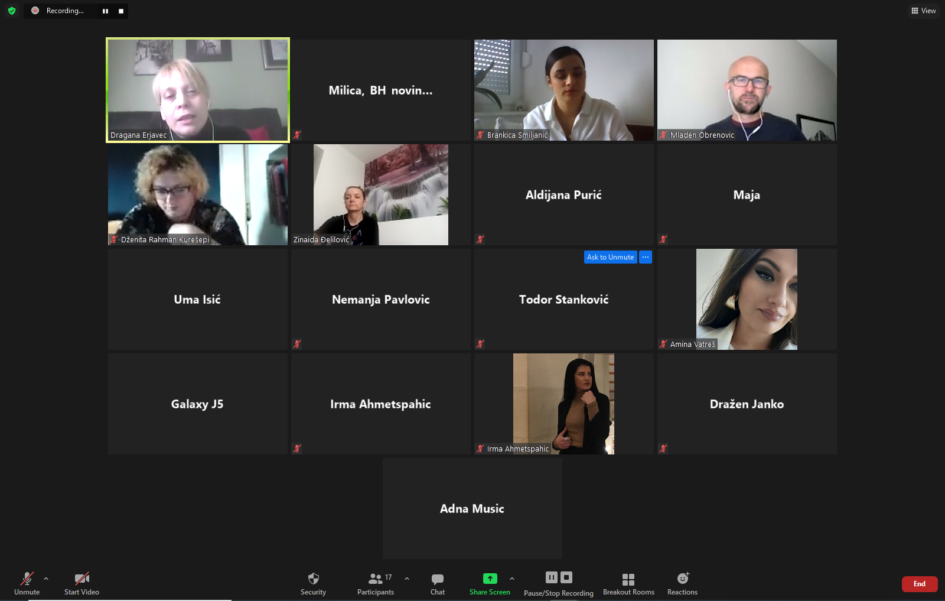 Sarajevo, March 5, 2021 – A journalist must have factual evidence for every claim stated in the text and that is the main tool for refuting any thesis that the story is manipulation, propaganda and lies, which on the one hand protects journalists and newsrooms from defamation lawsuits on the other hand, it also gives credibility to the story – it was emphasized during the workshop on investigative journalism, which was held today through the Zoom platform organized by the BH Journalists Association.
Whatever method of research that media workers use, they must respect ethical standards and rules, according to educator Dragana Erjavec from Radio Free Europe. "If we do not adhere to professional and ethical standards, then it is easy to accuse us that the stories are not relevant to us, and that is why we must check each source several times, and have documentation for each statement made in the text" says Erjavec adding that it is important for media workers that their sources are reliable and that they can verify the credibility of the information they place.
Zinaida Đelilović, a journalist from the magazine Žurnal, agrees that it is very important for journalists to know how to read and understand laws, to use public documents, because that is a sacred rule in investigative journalism. "When you do research stories, it often happens that the confirmation of the initial suspicion is hidden in the million papers you ask from public institutions, companies, institutions and by analyzing the collection of documentation you find important connections, ways of money, evidence that needs to be classified and presented to the public", Đelilović emphasizes, adding that he often demoralizes journalists when, after the invested effort and time, there is no effect, ie there is a lack of reaction from the competent institutions, but also from the public to all detected malversations.
Journalists in the local media often do not have enough of their own capacities or mechanisms to resist skillful political manipulations and pressures on the media, as well as their professional work, so they very rarely have the opportunity to create research and analytical articles.
Aldijana Purić, editor of Radio Velika Kladuša, believes that when trust in the institutions of the system is shaken, investigative journalism and the persistence of journalists to expose scandals, corruption and all deviant phenomena in society are very important. "It is far more difficult to do research stories in smaller local communities, but it is not impossible. A journalist should know how he can acquaint the public with some negative phenomena, and at the same time protect himself ", believes Purić, adding that this is the purpose of education, which can be a good guide for a journalist on how and why to start research.
Todor Stanković, journalists of the information portal "Fočanske novosti", says that investigative journalism is of key importance for local communities, because in that way citizens find out what is happening in their communities. "Resources and finances of local media are very limited, as investigative journalism does not help any powerful person in any local community, since they hinder or intimidate others in order to prevent any influx of resources: financial or intellectual", Stankovic said, adding that it is possible to do research stories in local communities, but it also requires a very large sacrifice, which not everyone can make.
"We need great support from associates and daily reminders that you are doing this solely to improve the lives of your fellow citizens by providing them with all the necessary valid information that will help them in adopting views", says Stanković.
Participants of the webinar had the opportunity to listen to lectures based on the manual of the Center for Investigative Reporting Sarajevo, created with the aim of encouraging media workers to work as much as possible on investigative stories, offering the public the truth based on decisions and changing the world.
A webinar on investigative journalism for journalists from local media was held within the project "Free Media for a Free Society" implemented by the BH Journalists Association in cooperation with the Association of Electronic Media in BiH with the support of the European Union. The aim of the project is to strengthen independent and free journalism in local communities, and the application of European standards in the protection of freedom of expression and access of citizens to quality and objective information.