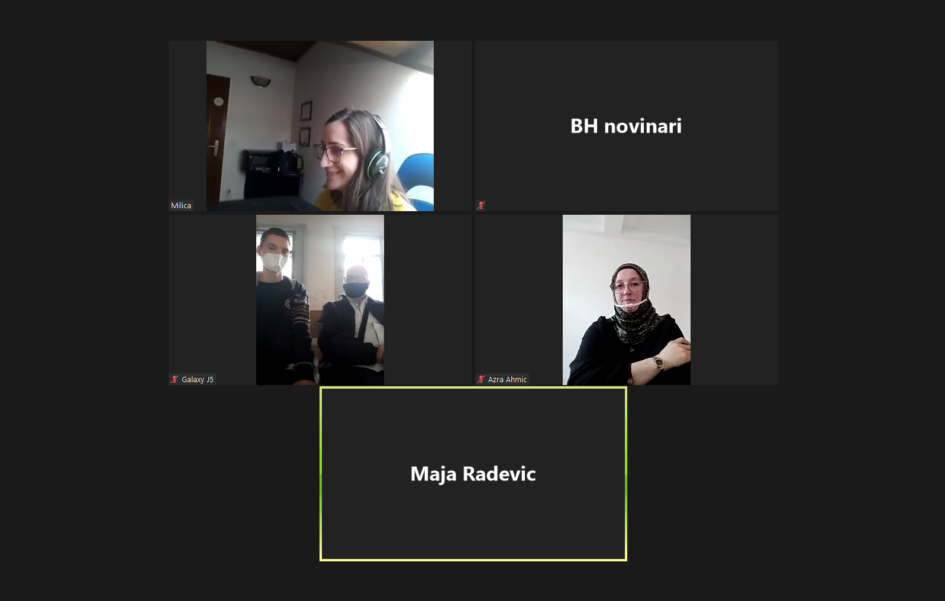 Sarajevo, March 4, 2021 – Educational institutions must have a greater impact on changes in the perception of violence as a permissible or common form of behavior in the family, it was said during today's online discussion with students and representatives of the High School of Applied Arts and Richmond Park College from Sarajevo, winners of the award for the best video on the prevention of gender-based violence.
The competition was organized by the BH Journalists Association and Medicus Mundi Mediterania from Barcelona, ​​and within the project whose focus is to improve media coverage of violence against women.
In her introductory address at the awards ceremony, Maja Radević, on behalf of the BH Journalists Association, thanked all high schools that showed openness and interest in cooperation in the field of educating high school students about gender-based violence, and that they encouraged students to work on creating videos. "Unfortunately, domestic violence and gender-based violence are still taboo topics in BiH society. Journalists and media, as well as young people who are socially engaged through various platforms, can contribute to paying more attention to these topics in public space and especially to encourage victims of violence to speak without shame about what is happening to them" Radevic emphasizes.
Azra Ahmić, a teacher and mentor of the award-winning video from Richmond Park College, says that this year they started talking more intensively with students about violence in this team, so they symbolically marked the International Women's Day in Science. "With the video that we submitted to the competition, we tried to promote the potentials that women have, and unfortunately society does not recognize them. It is very important for us to talk about it with our students, and in that way to contribute to the creation of a society without discrimination and division", Ahmić points out.
Abdulah Hodžić is a student of the High School of Applied Arts and one of the award winners, who with his video wanted to present violence and discrimination faced by women from different perspectives, using everyday examples. "I wanted to present the problems in the perception of gender-based violence by peers and the elderly, because it all reflects on the process of growing up, but also some solutions that can be applied individually and in the community" said Hodzic.
Imran Mujkanović, together with Nina Jevtinijević and Amar Karasalihović from Ricmond Park College, created a winning video on the prevention of gender-based violence. He says that discrimination against women is a current topic, both in BiH and around the world, and that the role of the media is great given the impact they have on citizens. "Of course, a five-minute video is not enough to show all the discrimination against women, but if more people started working on the prevention of violence every day, then there would be a shift in reducing violence in our society" says Mujkanović.
During December 2020, BH journalists Association held a series of workshops in four high schools in Sarajevo Canton, during which about 100 students were sensitized about gender-based violence, types of violence, and how to recognize and report violence in time. After the trainings, students had the opportunity to create videos on the prevention of violence and discrimination against women, and win valuable prizes.
The award ceremony was held within the project "Journalism based on the prevention of gender-based violence" implemented by the BH Journalists  Association in cooperation with Medicus Mundi Mediterania, with the support of the Government of Catalonia.