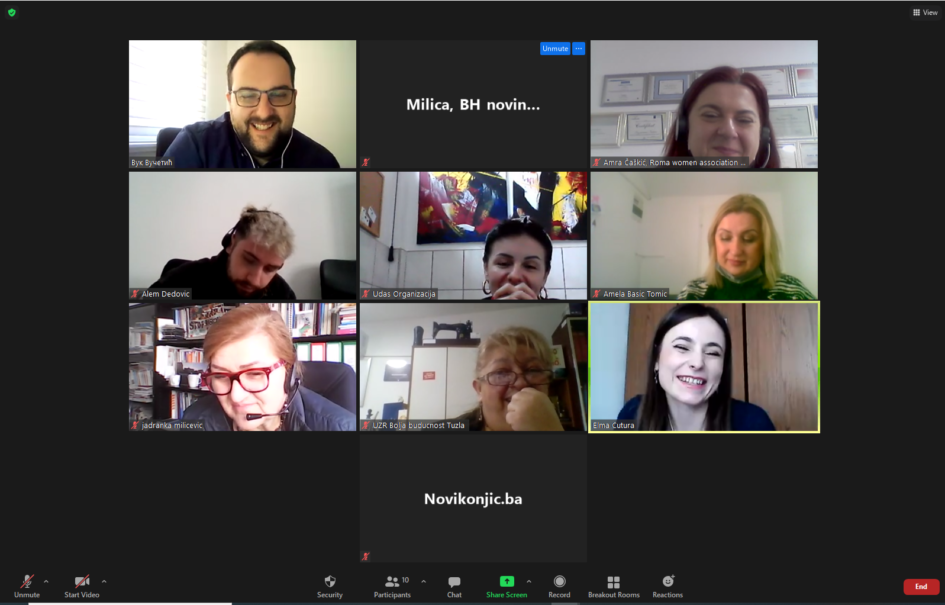 Sarajevo, 16.02.2021.- Media literacy is related to basic human rights such as freedom of expression and freedom of speech, and promotes human rights and encourages citizens to greater social participation – it was pointed out during the workshop on media literacy for civil society organizations organized by the BH Journalists Association, through the Zoom platform. It was also said that media literacy should be the umbrella competence in societies of strong digital transformation, whose citizens will be sufficiently informed and educated to be able to make constructive and responsible decisions in the "knowledge society".
Educator and media expert doc. dr Vuk Vucetic says that media literacy is important for society because it achieves critical thinking, creativity and social activity. "The fuel for the work of the human brain is information. The quality of the information we deal with largely determines our perception, beliefs and attitudes, and critical thinking is very important because it provides quality information", said Vucetic, adding that studying the way the media works and the potential of media technologies helps people express themselves creatively.
Media literacy in a time of growing influence of digital media implies a certain level of information literacy for all those who consume media content via the Internet. As with any new mass communication channel, online media have their own ways of shaping messages and information that require the development of new knowledge that makes up media literacy.

"When we talk about the importance of media literacy in terms of social activity, it is clear that a media and information literate person contributes to the development of democratic values ​​through participation in everyday social activities, because they know how to communicate their message, how to engage in discussion and create and use the space to place their views", Vucetic emphasizes.

The media is a very important item not only in informing citizens about the work of civil society organizations, but also as a "technology" that cannot be irresponsibly used to spread fake content, hate speech on social networks, misuse of personal data and use of copyrighted works without permission. In order to cope better with the new reality, it is necessary for citizens to have competencies and skills, to know the techniques of verifying the authenticity of sources. It is necessary for them to learn to seek, evaluate, use, create and place information in order to achieve personal, social and professional goals.

Amra Čaškić from the Association of Roma Women "Better Future" from Tuzla believes that media literacy is a problem in BiH society because citizens are increasingly confronted with misinformation and hate speech, while propaganda has been present for years. "That is why it is important that we can recognize the right information in the media space and the way it is placed, and for that we need education, which proved to be a positive example at today's workshop for NGOs", said Čaškić, adding that NGOs they are increasingly involved in the work on media literacy and freedom of speech, and although they are in constant contact with the media, both local and national, it is necessary to engage and educate everyone on this topic.

Alem Dedović from the Center for the Development of Youth Activism "CROA" believes that media and information literacy is not acquired at once, but that it is a lived and dynamic experience and process. "Being media literate implies the ability to access, critically analyze and create information through the media and other sources of information. Media literate citizens take a more active role in society, making it democratic in return", Dedović believes. He also adds that a small number of people, ie NGOs, recognize the importance of media literacy: "I have the impression that the term "media literacy" is often overshadowed, that is, they diminish the importance of the topic itself. On the other hand, I am pleased to learn that NGOs do not demoralize it, on the contrary, it gives them more reason to engage in this topic and provide support to local media. "

Workshop participants agreed that for an individual who wants to be media literate, it is very important to know his rights in the digital world, how to download content, check its credibility, and how to find alternative sources of information and entertainment. In addition, although media literacy involves a wide range of issues and concerns, workshop participants agree that an individual cannot be an expert on all media literacy topics, but can find the aspect that suits him or her and is needed.

A workshop for the NGO sector in BiH on the topic of media literacy was organized within the project "Free Media for a Free Society", which is implemented by the BH Journalists Association in cooperation with the Association of Electronic Media in BiH with the support of the European Union. The aim of this project is to strengthen independent and free journalism in local communities, and the application of European standards in the protection of freedom expression and access of citizens to quality and objective information.