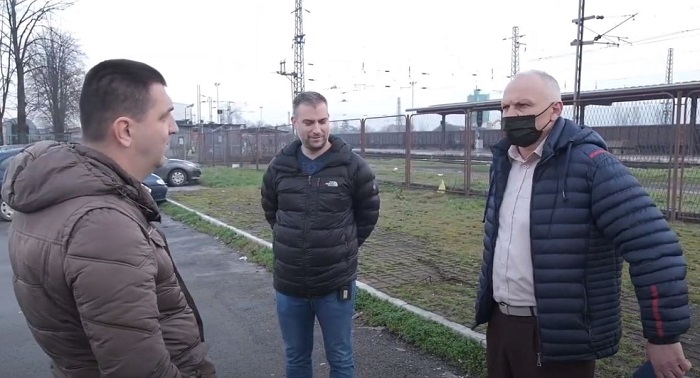 Banja Luka / Sarajevo, February 12, 2021 – The Steering Committee of the BH Journalists Association and the Free Media Help Line (FMHL) are sending a public protest to the administration of Railways of Republika Srpska for attacking the media crew in Banja Luka and trying to prevent reporter and cameraman from performing their journalistic tasks.
While they were preparing to record the statement of the former RS ​​Railways employee, on Wednesday, February 10, journalist Đorđe Vujatović and the cameraman who worked with him were approached by RS Railways security worker Milenko Kičić, who verbally attacked them and threatened to "break their camera" and "break them on the concrete" if they continue filming. At that moment, the media crew was in a public area, at the parking lot in front of the RS Railways, which they tried unsuccessfully to explain to the security worker who attacked them. The cameraman managed to record part of this incident and in the end, the police were called and took statements from all the actors in this event.
The Steering Committee of BH Journalists and the Free Media Help Line strongly condemn this attack on media freedoms and endangering the safety of journalists and the media. We demand from the RS Railways administration to conduct an internal investigation into the incident and sanction their employee Milenko Kičić in accordance with the company's rules of operation, as well as to send a public apology to journalist Đorđe Vujatović. The statement of the RS Railways Information Service  which states that "according to their knowledge and internal checks" the worker did not threaten the journalist, and that the media crew filmed "facilities, space and employees of the RS Railways unauthorized, without permission", represents a relentless attempt to justify the attack on journalists, especially given the fact that a video of the incident is published on the Internet and publicly available and it clearly shows a worker of this company threatening a journalist and a cameraman.
Such attacks on journalists who have only done their job in a public place, where no one can forbid them to film are inadmissible in a democratic society. Unfortunately, this is not the first such case in Bosnia and Herzegovina – a similar incident happened two years ago when the photographer of the online magazine Žurnal Adi Kebo was physically attacked on a work assignment, but also in many other situations.
The Steering Committee of BH Journalists draws attention to the fact that many employees of public institutions and companies are obviously not sufficiently familiar with the rights of journalists and media, which often leads to violent attempts to prevent media teams from doing their job. Therefore, we emphasize the need for the management of institutions in BiH to acquaint their employees, especially those who work in security department, with at least fundamental rights of journalists, which includes performing journalistic tasks in public areas without interference.