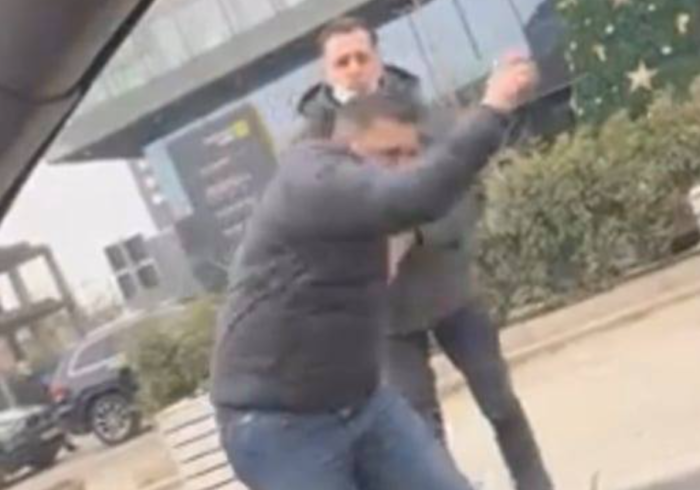 Valon Syla was attacked by a man asking him not to show on TV again. The incident, seemingly caused by Syla's critical views of the Kosovo diaspora, was filmed by citizens who witnessed it. A suspect reported to the police and is being investigated.
On December 22, while walking in Pristina, Valon Syla, journalist of Gazeta Metro online portal was approached by three unknown men. One of them asked "Are you Valon Syla?". In order to avoid problems, Syla denied and continued walking. The man then grabbed him and said "Can you never show on TV again? Or ever talk (publicly) again?"  and physically attacked Syla, while the other two observed. The attack lasted about 30 seconds and was recorded by nearby citizens. Syla managed to get away and call the police. Based on information received from the police, the suspect reported to the police accompanied by a lawyer, was interviewed and put under 48-hour detention
Once Syla was informed about the suspect's identity he realised the person, who lives abroad, is related to someone who had been previously commenting on his Facebook posts.
"I think the attack happened because of the debate I have always wanted to initiate – about violent society, one that does not accept criticism or a different opinion. "– said Syla, who is known for his critical views of diaspora. 
Association of Journalists of Kosovo (AJK), member of SafeJournalists Network condemned the attack and sought an urgent and serious reaction from the authorities. 
"Such an attack, in the middle of the day and in a very frequented city area, is a proof of how easily and without even considering the consequences, a journalist can be attacked, just because he has a different opinion." – said Gentiana Begolli Pustina, the president of AJK and added that the attack on Syla must be punished: " A clear message has to be sent to everyone that a different opinion and the freedom of speech are fundamental values of a democratic society; and not something that should be silenced, attacked and vanished!"
SafeJournalists Network, representing more than 8,200 media professionals in the Western Balkans share its member's concerns. The fact that the suspect reported to the police is encouraging. However, there are journalists in Kosovo who were threatened and attacked, and whose cases still linger in the judicial system. We warn that without consistent judicial practice that deter future attacks there can be no progress in the field of safety of journalists, freedom of expression and freedom of media. That requires accountability of the police, the prosecutor and the courts.
SafeJournalists Network will inform relevant national and international stakeholders about this case.
Each attack on journalists is an attack on public interest, democracy and rights of all citizens.
Belgrade – Podgorica – Pristina – Sarajevo – Skopje – Zagreb, 23.12.2020.
Association of Journalists of Kosovo
Association of Journalists of Macedonia
BH Journalists Association
Croatian Journalists' Association
Independent Journalists Association of Serbia
Trade Union of Media of Montenegro