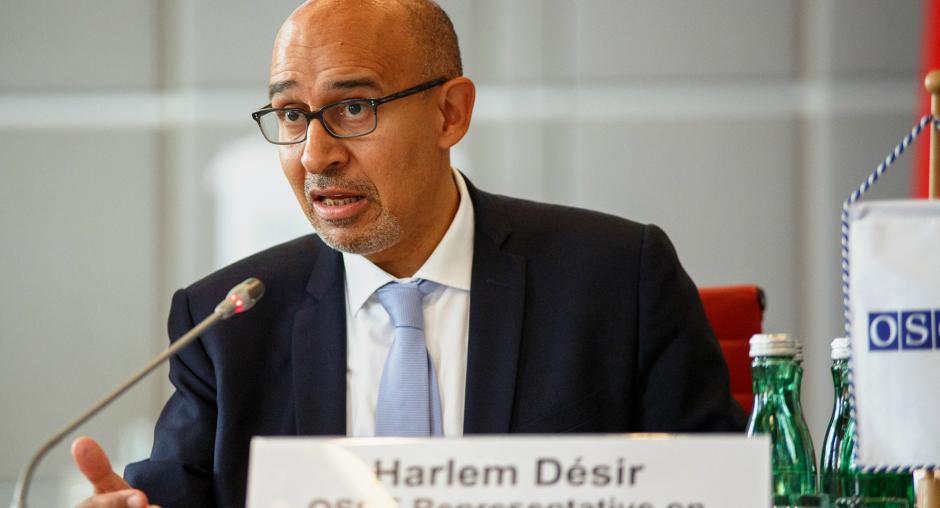 VIENNA, 2 July 2020 – The press is in danger in too many places in the OSCE region, said OSCE Representative on Freedom of the Media, Harlem Désir, as he presented his biannual report to the OSCE Permanent Council in Vienna today. The COVID-19 pandemic has only aggravated this situation, as it amplified existing trends and added a new layer of problems to the existing ones, including the dire economic situation many media are currently facing.
"Threats to media freedom and the work of journalists are on the rise. It is the responsibility of States to ensure better protection for journalistic work, to combat impunity of crimes committed against journalists, to respect the independence of the press and freedom of expression, and to support pluralism and not to stifle it," said Désir.
Désir noted that in the past seven-and-a-half months of this reporting period (21 November 2019 – 2 July 2020) he intervened on 132 individual cases related to the physical safety of journalists. Among those were eight arson attacks against the premises of media outlets, cars or houses of journalists, one bomb attack, and shots fired at a media outlet. He also intervened on over 200 individual cases related to the legal situation of journalists, their legal safety, including 104 detentions and 20 new court proceedings or developments in trials against journalists.
"The fact that so many journalists are facing prosecution, condemnation and detention for just reporting on issues of public interest, expressing critical views, or ensuring a plurality of opinions remains one of the greatest challenges for the OSCE region," said Désir.
The Representative called on participating States to improve their national legislation to protect journalists. "I continued to assist participating States in shaping their policies and legislation in line with international standards and OSCE commitments. Several of the legal reviews that I provided to the participating States were partially, or entirely, taken into account by the authorities," he added.
Désir also called upon participating States to come up with strong economic support to the media. "Across the OSCE region, media are suffering major economic losses, which are mainly happening through drastic drops in their advertising revenues. In addition, print media have faced additional income losses whenever the various degrees of lockdown have hindered their sales and postal distribution. Media that were already financially struggling before the pandemic are reaching the edge, some of them facing liquidation and closure," he said. "Thousands of journalists and media workers have already lost their jobs and many media outlets across the OSCE region have temporarily suspended their activities, decreased their periodicity or reduced their circulation. This crisis is a direct threat to media pluralism and will restrict the sources of information for the public, exactly at a time when the public needs accurate, local, relevant and reliable information the most. This is a democratic emergency."
(OSCE)