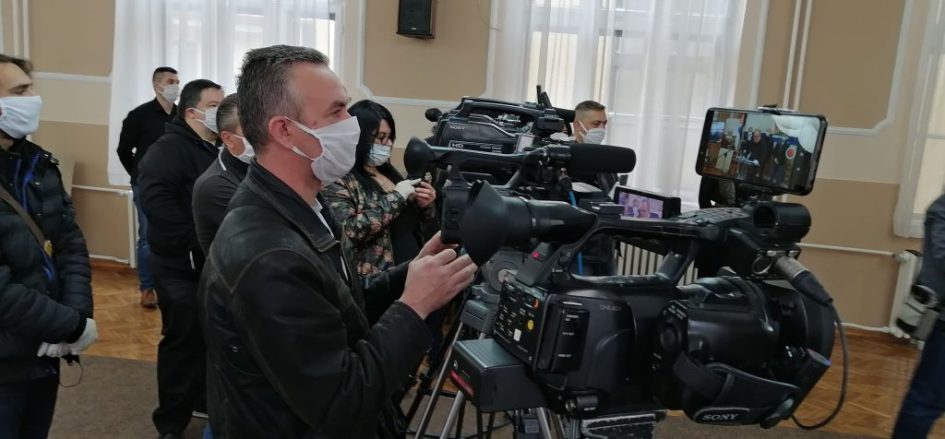 Sarajevo, 06.05.2020. – The Institution of Human Rights Ombudsmen of Bosnia and Herzegovina has issued a Recommendation calling on the crisis staffs of the Federation of BiH, Sarajevo Canton and Herzegovina-Neretva Canton to reconsider their practices regarding the presence of journalists and media workers at press conferences in order to ensure the highest possible involvement of journalists, and to consider the use of information technology in this regard.
The aforementioned recommendation was made after the BH Journalists Association appealed to the Institution of Ombudsmen on April 27, with a request to review crisis staffs decisions regarding the presence of journalists and media at press conferences. In their complaint, BH Journalists stated, inter alia, that organizing press conferences without the presence of journalists, as well as excluding the possibility of their direct dialogue with public officials during the conference, could lead to censorship and incomplete information for citizens. They also stated that the practices of crisis staffs vary, from the presence of a few journalists and the sending of questions by e-mail, to complete bans.
– The authorities are faced with the task of protecting the health of the population, preventing the spread of the disease, while at the same time providing information to citizens and preserving all freedoms. In doing so, it is evident that it is often necessary to resort to more rigorous measures, at least in certain initial stages. However, we believe that in order to preserve freedom of expression and the interest of the public, the measures  and the need for their proportionality should be considered, without in any way compromising anybody's health – states the Ombudsmen's recommendation to the crisis staffs in Federation of BiH.
In order for this recommendation to be properly implemented, the Ombudsmen note that crisis staffs have more measures at their disposal – from the use of information technology, greater protection, larger rooms, and even the organization of open-air press conferences.
The crisis staffs should provide the Ombudsmen with information on the implementation of this recommendation within 10 days.