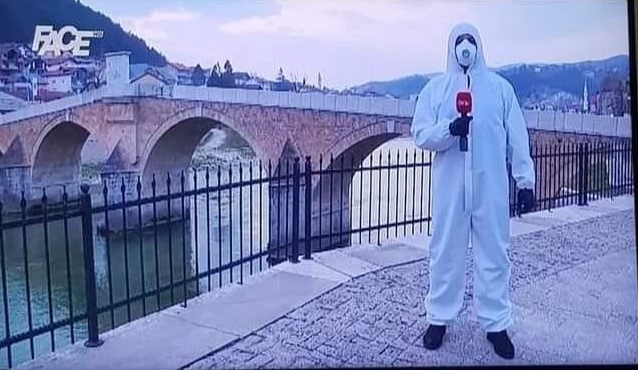 Konjic, 30.03.2020. – At a special session held on March 29, the Civil Protection Headquarters from Konjic condemned the inappropriate reporting, excessive harassment and spread of fear among the citizens of Konjic and throughout Bosnia and Herzegovina by certain media.
As an example of such reporting they pointed out the reportage by Face TV on March 28th, in which the Konjic Municipality was compared to Wuhan in China. During the filming the reporter was wearing a protective suit, although that is not prescribed by personal protection orders. The conclusion of the Civil Protection Headquarters session states that the reporter made the entire reportage in that suit, while his cameraman was not dressed in that type of suit, "which indicates that the coverage was tendentious."
The Konjic Municipality Civil Protection Headquarters urgently requested the reaction of the competent institutions, primarily the Communications Regulatory Agency (CRA) of BiH and the Prosecution's office.
After this conclusion, they reacted from Face TV and stated, among other things, that "FACE TV, with the best professional and human intention to draw attention to the authorities, crisis staffs and responsible persons in the Federation, risked and sent its media crew to Konjic."
"FACE has very limited resources, we are 'isolated' even before the appearance of the coronavirus, blocked, quarantined, under terrible impact and pressure from the authorities, and yet to help the citizens of Konjic, we have sent a TV crew to the 'most vulnerable city in the Federation' as officially declared by Prime Minister Fadil. Which TV crew, what rich television has been in Konjic these days ?! Which television has dared to enter the 'hotspot of the most endangered city' ?!", the statement said.
FACE TV apologized for the term "Bosnian Wuhan" used in reference to Konjic. They also stated that their reporter received death threats.
The Communications Regulatory Agency of BiH has previously urged all broadcasters to pay attention when making coverage of the Covid-19 pandemic in editorial decisions about the content they publish, to avoid spreading misinformation that could cause panic and fear among citizens, but also to endanger their health and safety.