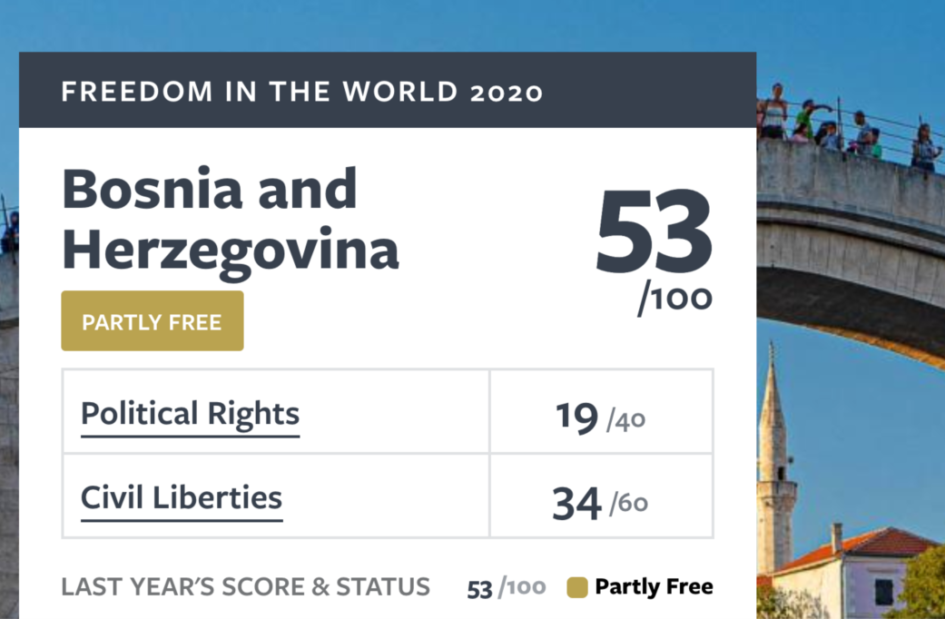 Democracy has been under assault around the world and the effects are visible not only in authoritarian states such as China, Russia and Iran, but also in countries with a long track record of upholding fundamental rights and freedoms, according to a 2020 Freedom House report.
Although protest movements in all regions have illustrated the widespread desire of the people for better governance, they have not yet reversed the overall pattern of declining freedom, the report said.
Countries that have suffered a stalemate in 2019 outperformed those that have made progress by almost two to one, marking the 14th consecutive year of deterioration in global freedoms. During this period, 25 of the 41 world democracies experienced a decline in freedoms.
Bosnia and Herzegovina is rated as a "partly free" country, and its rank is at the level of last year – it ranks behind Armenia and ahead of Malaysia.
The freest countries with an absolute result are the Scandinavian countries.
Of the 195 countries evaluated, 83 (43 percent) were rated free, 63 (32 percent) were partially free, and 49 (25 percent) were not free. The share of free countries has decreased by three points in the last decade, while the percentage of partly free and non-free countries has increased by two and one point respectively.
The Freedom House report states, among other things, that the gap between progress and decline in the world has widened. People in 64 countries experienced worsening of their political rights and civil liberties in 2019, while in only 37 countries they experienced improvements. The difference was smaller in 2018, when 68 countries went backward and 50 advanced.
As democratic states show unsuccessful support for freedom on the international scene, authoritarian forces have expanded their global influence through proxy wars, meddling in elections and censorship beyond their borders, the report concluded.