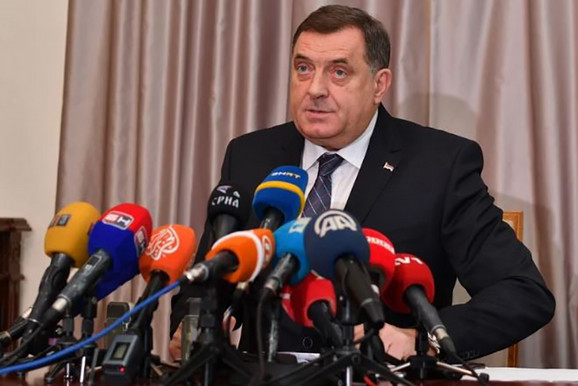 Sarajevo, 27.02.2020.- The Steering Committee of the BH Journalists Association and the Free Media Help Line condemns the offensive statements of Member of the Presidency of Bosnia and Herzegovina Milorad Dodik on the Klix portal from Sarajevo. At a special session of the Republika Srpska National Assembly in Banja Luka on Wednesday, Dodik called Klix an "unfriendly medium" for Republika Srpska, misusing an assembly speaker for dealing with this media and its journalists.
The Steering Committee of the BH Journalists Association finds it unacceptable to interfere with Milorad Dodik in the work of Klix journalists, including the spread of untruths and unjustified qualifications about this, as well as all other media that critically report on the work of institutions or individuals from RS. Such media and journalists are constantly the target of political attacks, threats, slanderous and primitive qualifications of Milorad Dodik and other RS ​​officials, declaring them as a "enemies of the RS", and they do not shy away from sending the police to the media. It should be reminded that in December 2014, police of the Republika Srpska, with the help of the Sarajevo Canton, broke into the Klix editorial office in Sarajevo, only because Klix published an audio recording of the illegal "purchase" of member of Nation Assembly and their votes in the then convocation of the Republika Srpska National Assembly.
The Steering Committee of the BH Journalists Association demand from Milorad Dodik to stop the violence against the media and to harmonize his attitude towards the media and journalists with democratic values ​​and media freedoms, which include freedom to criticize public officials, respect for norms of decent communication and to respect  the role of the media in society.
In recent years, Free Media Help Line has recorded at least 20 attacks and threats by Milorad Dodik to journalists and media from across BiH, with a particular focus on BNTV, FTV, BHRT, Oslobodjenje, Beta news agency, etc. Due to the frequency of attacks, their paranoid repetition and brutality, BH Journalists Association will request from the European Federation of Journalists, the Council of Europe and the OSCE Office for Media Freedom special reactions and interventions to protect the freedom of expression and security of journalists in Bosnia and Herzegovina, especially in the Entity of Republika Srpska.
The Steering Committee of the BH Journalists Association