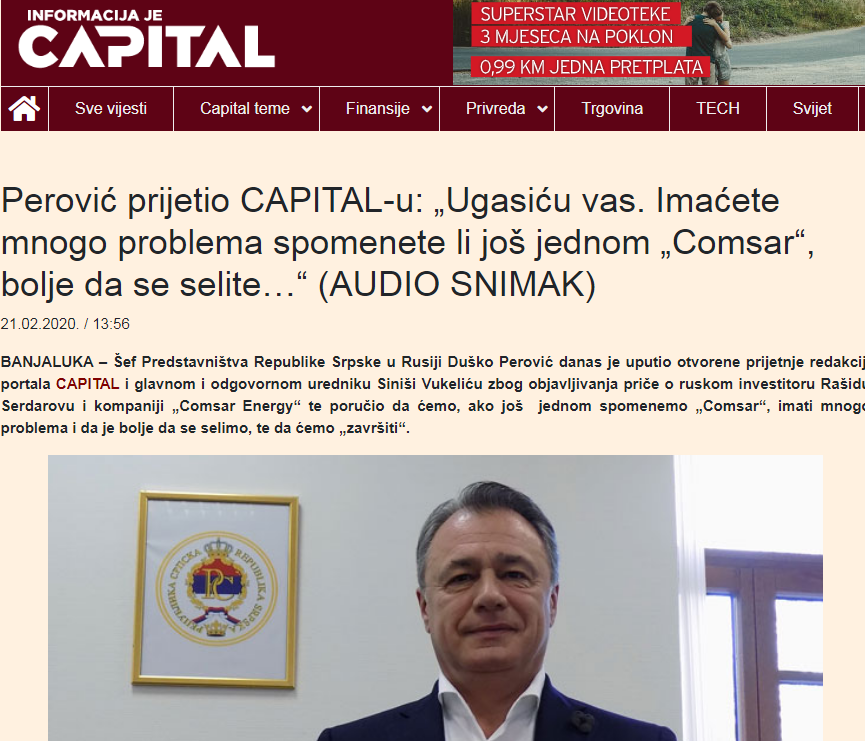 Sarajevo, 21.02.2020. – The Steering Committee of the BH Journalists Association and the Free Media Help Line strongly condemn the verbal threats made by Dusko Perovic, head of the Republika Srpska Representative Office in Russia, to the editorial board of Capital portal in Banja Luka and its editor-in-chief Sinisa Vukelic.
Aggravated threats with possible, serious consequences for the safety and professional integrity of Capital editorial staff members, Dusko Perovic made by phone shortly after this portal published a text about Russian investor Rasid Serdar and a firm Comsar Energy, the owner of a thermal power plant concession "Ugljevik 3" in this Bosnia and Herzegovina entity. Perovic also threatened that he would "close" the Capital portal himself if editor Sinisa Vukelic once again wrote anything about the work of Comsar Energy, and stressed that the portal would quickly "be done with" and that editor Vukelic should "move to Mars "!?
The Steering Committee of BH Journalists considers Perovic's threats to be a serious attack on freedom of expression and safety of journalists, which is why the RS Ministry of Internal Affairs must immediately investigate and take appropriate measures against the attacker – an RS government official currently living in Moscow. At the same time, the BH Journalists' Steering Committee requires the RS Government and Prime Minister Radovan Viskovic to publicly condemn the primitive and arrogant behavior of their official and to take legal measures against Perovic, whose threats to Capital represent a serious crime.
Regarding the threats to the editorial staff of the Capital, the Steering Committee of BHJA and the Free Media Help Line will inform domestic and international organizations for the protection of freedom of expression and safety of journalists, including the Russian Embassy in BiH, as these threats are addressed from the territory of the Russian Federation.