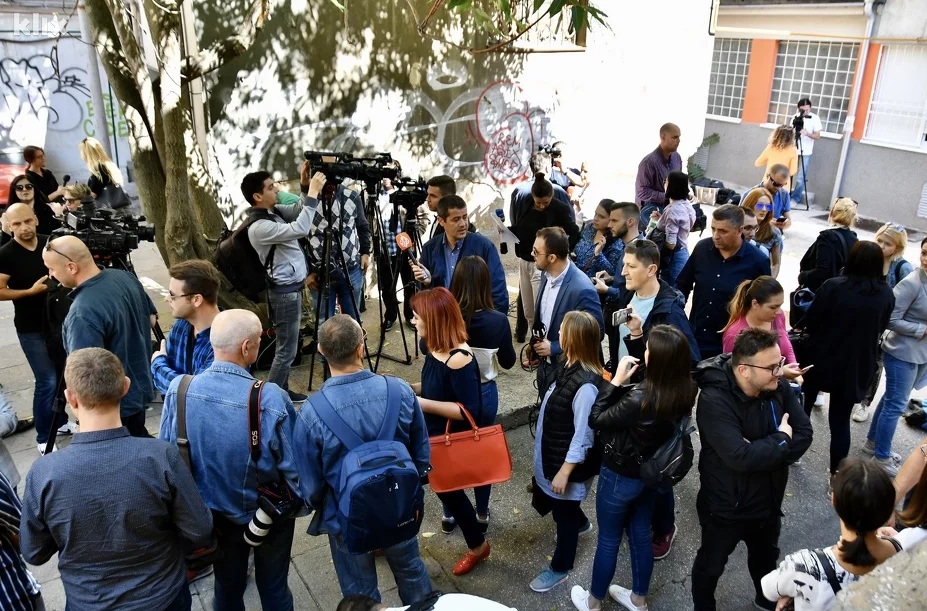 Klix.ba
Sarajevo, 30.09.2019. – Journalists in Sarajevo are seeking changes of the law and that attacks on journalists and the media are treated as criminal offenses. More and more frequent are the requests for journalists to be granted official status. The reason for the journalists gathering today at 12 o'clock in front of the Football Club Sarajevo headquarters is the attack and pressure on journalists in front of the editorial office of Radio Sarajevo three days ago.
Secretary General of the Society of Journalists Fedzad Forto said it's a frightening fact that 50 serious attacks on journalists are outdated.
Faruk Vele addressed on behalf of the Radio Sarajevo portal and said that today journalists have gathered to support all colleagues who have suffered some type of pressure or attack.
"This is support for colleagues Gordana Katana, Meliha Smajkic, Vladimir Kovacevic and all my colleagues who have been attacked in recent years. It is very difficult to be a journalist in BiH and it is becoming increasingly difficult to do this job every day. We want to say to the state: Protect us, we have the right to work and to freedom", said Vele.
Politicians Senad Sepic, president of the Independent Bloc party, and Sasa Magazinovic, SDP MP in the state parliament, supported journalists in their fight for free work today.
After the gathering in front of the FC Sarajevo headquarters, a group of journalists headed to the Prosecutor's Office of Canton Sarajevo building and then to the State Parliament.
Klix.ba, Sarajevo, 30/09/2019