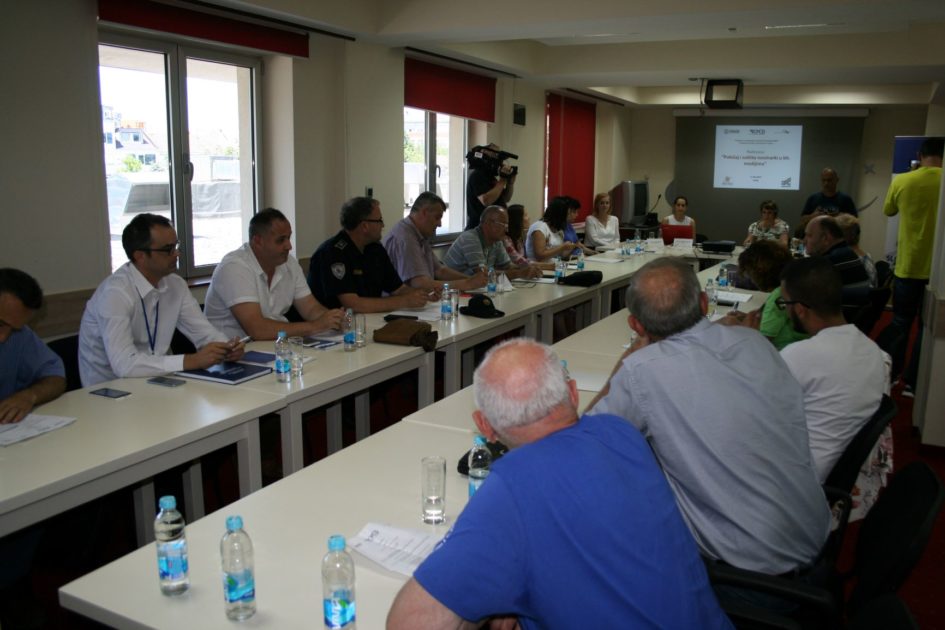 BRČKO, 12.06.2019. – Female journalists in BiH are not sufficiently familiar with domestic and international mechanisms for the protection of labor and social rights, and very rarely recognize gender-based violence, threats, and attacks that they are exposed daily. This was pointed out yesterday at the workshop "Position and protection of female journalists in BiH" organized by BH Journalists Association in Brcko.
Insufficient education of female journalists about their rights, including gender-based violence, is one of the main problems faced by female journalists and why they rarely report attacks, discrimination or mobbing at the workplace. Also, the length of court proceedings and the disappointment in the judicial system are the reasons why female journalists and other media employees do not believe that they will be adequately protected, and in some cases, they suffer from various forms of professional and gender violence by decades.
Project coordinator of BH journalist Milica Andrijasevic said that networking of female journalists is necessary in order to protect them from gender-based violence and violation of professional rights in a more effective way, but also to help to improve the position of female journalists in their media houses.
"The biggest disproportion in the representation of women and men at the main management positions is in the television sector. Even three-quarters of directors and editors-in-chief in this sector are men, while women account for only 15.8 percent. In general, the share of women in the director's position in the media is 25.3 and men 74.7 percent, "Andrijašević pointed out.
She added that in the BH journalist's research, female journalists were more engaged in problematizing simple and less attractive topics and media content, especially in news programs, and that they often accept topics that are simpler, under pressure from editorial colleges.
Fatima Bećirović from the Gender Center of the Federation of BiH pointed out that, in addition to discrimination, female journalists and other media professionals are exposed to various forms of professional stress.
"Journalists and female journalists are very often a target of the attack, regardless of their sexual affiliation precisely because of the profession they are dealing with. It is truly a devastating fact that out of 120 reported cases of violation of journalists' rights, only 30% have been sanctioned ", – Bećirović said, adding that journalists often do not have time to advance in their profession because bh. society did not apply gender equality in an adequate manner and there is no equal consensual measure for the professional advancement of men and women.
President of the BHN Club of Journalists Bosanska Posavina Admir Kadrić said that male colleagues must work more on gender equality in media houses and enable female journalists to do a better job, move faster and be elected to leadership positions. "The curse of our business is a desire and a collision for information, and we have less time to deal with professional advancement or strengthening the position of journalists within the editorial staff," Kadrić added.
In addition to all the factors that influence the objective work of the media and the position of female journalists and journalists in the Brcko District, there is a lack of financial support and relatively low salaries in the journalistic profession. A longtime journalist and correspondent of EuroBlica Cveta Kovačević explained that journalism work is in most cases considered a male job. "Journalists often complain because they are given easier tasks because they are considered insufficiently competent for research, execution of "hard" topics", Kovacevic said. She added that Brcko District's local authorities are open to journalists, one of the few that allows media to be present during sessions and legislative and executive authorities, which is why they will be more interested in their own contribution to improving the position of journalists in the Brcko District.
The workshop in Brcko was held within the framework of the project "Strengthening the network of female journalists in BiH" implemented by BH Journalists Association through the USAID's Independent Media Empowerment Program (IMEP) and with the support of the Free Press Unlimited from the Netherlands.
BHN, Brčko, 11/06/2019