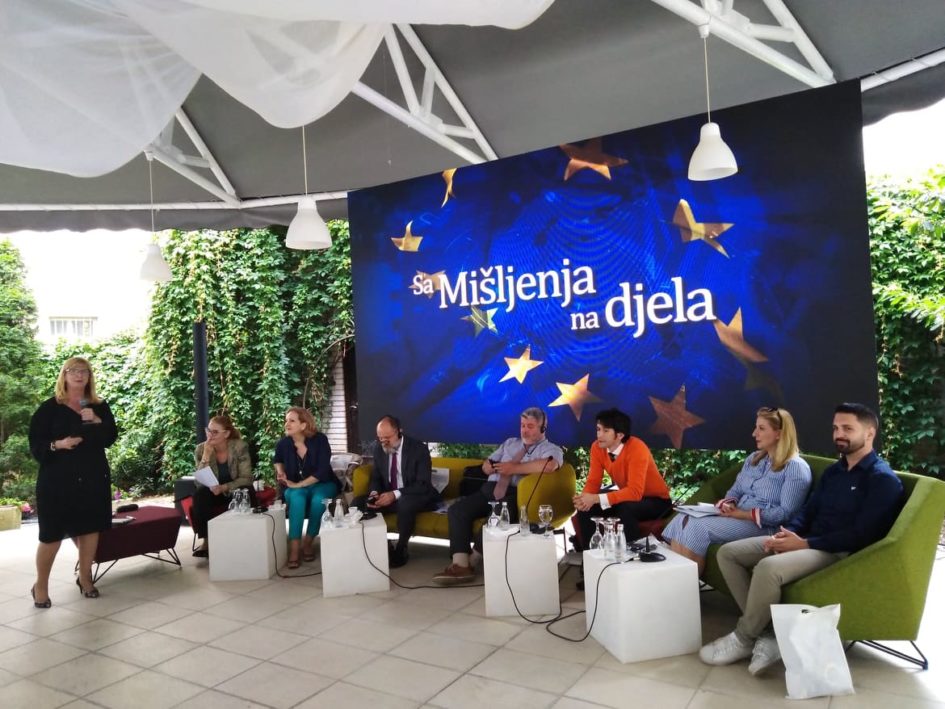 SARAJEVO, June 25, 2019. – A thorough reform of the judiciary and education system, creating better conditions for young people, corruption, poor health and social systems are just some of the problems that Bosnia and Herzegovina needs to solve before gaining candidate status for the European Union – these are the opinions of BH citizens presented in the survey of The Office of the European Union in BiH, as well as the majority of media and non-governmental representatives, who have had the opportunity to discuss the Opinion on BiH's application for membership in the European Union today in Sarajevo with EU officials.
With the message "Time to move from Opinion to Acts", citizens, journalists and representatives of non-governmental organizations, as well as EU officials, all agree to one: Bosnia and Herzegovina is definitely not yet ready for access to EU, and the European Commission's Opinion speaks that our country did not reach a level in any area that can be considered as good preparation for the EU.
We have had the same recommendations for years and we need to exert strong pressure on the political elite in BiH to have these processes finally launched, said the participants in today's discussion. However, politicians aren't the only ones (not) responsible for such situation – participants of the debate have emphasized that there is a great responsibility on the citizens themselves who, each in their domain and profession they deal with, can influence positive changes in society.
Representatives of the political authorities in BiH are mostly dealing with themselves and they can not be expected to be proactive and take responsibility, says Borka Rudic, General Secretary of the BH Journalists Association (BHJA). As a positive example of civic and journalistic activism, she pointed out the recent attempt by the Republic of Srpska Government to amend the Law on Public Order and Peace to prevent journalists or cameramen from filming police officers.
– Journalists, NGO's and activists reacted to such a move and made a joint list of proposals for the RS Government. The RS Government eventually withdrew this proposal because it is not in line with european standards of protection of media freedom and rights. This is one example of how the interested parties can take responsibility for the issues that concern them personally – said Rudic.
Similar opinion was given by Boro Kontic, director of the Media Center, who commented that "BiH was closer to the European Union 25 years ago than it is today".
As EU representatives pointed out, the process of european integration in BiH is slow, primarily because there is no clear state-level strategy and a common vision for the EU accession.
– BiH is the only country that does not have a national program of harmonization of legislation with regulations and laws in EU countries. But when something is of direct concern to the public, politicians take that very seriously, because they know that in the opposite, the time will come when citizens will go out on the streets, and that will not be good for them – concluded one of the participants.
BHN, Sarajevo, 25/06/2019