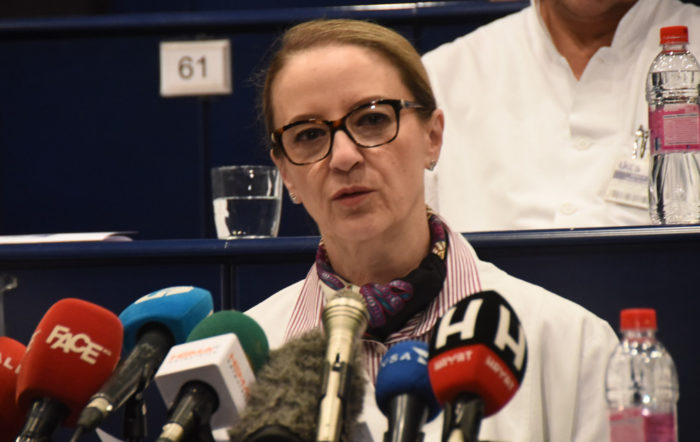 SARAJEVO, 2.2.2019.- Steering Committee of BHJA publicly condemns the insulting, arrogant and unprofessional act of dr Sebija Izetbegović, director of the Clinical Center, towards journalists and media on a press conference in Sarajevo, held on the 31st of January, 2019.
A simple event, the purpose of which was to present business results of the largest public health institution in BiH, became, thanks to of Dr. Izetbegović and her associates a performance during which the journalists were ridiculed, excluded from sale or otherwise disabled in obtaining information of public importance. The BHJA Steering Committee condemns this acts, considers it as inappropriate, contrary to the basic public communications postulates and humiliating for both professions – journalism and medicine.
Without intending to interfere in the work of the leaders of this institution and to instruct on which way should a press conferences be organized, we consider that nobody, even not director Izetbegovic , has the right to treat journalists inappropriate, deny them answers to questions about business, the quality and the level of service available for citizens, as well as information about many experts leaving this health institution. In this regard, the Steering Committee of BHJA request from the director Izetbegović an apologize to media and the whole public for this unacceptable behavior towards journalists, including denial of answers to questions about frequent, public criticisms of her work and health services in this public institution.
Steering Committee of BHJA calls on journalists and media to act with much more professional dignity and collegiality in situations when public officials insult their colleges, denial them answers on critical issues or expelled them from public events. In these situations, all journalists should jointly and severally leave the vent, and boycott the work of institutions and individuals who ruin the integrity of the journalist profession, media freedom and other values of a democratic state..
Upravni odbor Udruženja/udruge BH novinari
BH Novinari, Sarajevo, 02/02/2019