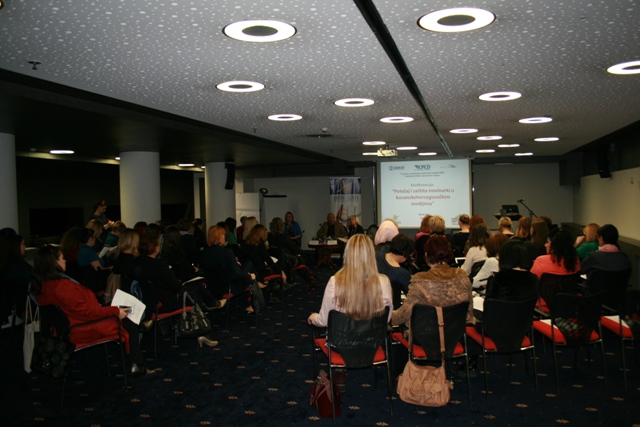 Sarajevo, March 8, 2019 – Female journalists experience much less physical violence and death threats than their male colleagues due to investigative work and published texts, but there are more subtle, only seemingly benign ways of discrimination – denial of requested information, covert threats, insults at the expense of physical appearance, sexism, mobbing and slander in the field of cyber violence, it was ordered from the conference "Protection and position of female journalists in BiH media", organized by the BH Journalists Association in Sarajevo on March 8- Women's Day.
Speaking at the opening of the conference, OSCE Mission to BiH spokeswoman Zeljka Schulz pointed out that at the last conference, OSCE member states made a decision, the first in 165 years, on the safety of journalists, which in part refers specifically to female journalists and the security risk they face. "In a large number of cases, attacks on female journalists lead to self-censorship and withdrawal of women from work, and then the profession becomes predominantly male. Member states are obliged to publicly and unequivocally condemn attacks on journalists, including sexual and digital abuse," Schulz said.

The project manager of the Center for the Promotion of Civil Society, Slaviša Prorok, believes that he is especially concerned that we do not know what is happening within the newsrooms and that it is necessary to raise the level of solidarity between journalists.
Judge of the Supreme Court of the Federation of BiH, Svjetlana Milišić Veličkovski, is of the opinion that female journalists are exposed to discrimination both in their daily work and in the editorial office, but also by their interlocutors and the public in the end. "The law clearly defines what is discrimination and what is sexual harassment, but even women themselves cannot understand whether something is discrimination or harassment," Milisic Velickovski points out.
The editor-in-chief of Oslobodjenje, Vildana Selimebegović, says that we are basically a patriarchal society and the attitude towards women and female journalists is derived from it. "The decisive battle is the battle for professionalism, because until the media fight for themselves and show solidarity, until they stand behind their attacked colleagues, we should not even hope that we will be the ones for whom someone else will fight." "- Selimbegović is clear.
The editor-in-chief of Nezavisne novine, Sandra Gojković Arbutina, believes that every discrimination starts from the editorial office. "A female journalist who is sufficiently empowered and has a good background in her house can cope better with attacks," says Gojković Arbutina.
According to the editor-in-chief of Srpskacafe from Banja Luka, Andrijana Pisarevic, at least fifty percent of the responsibility for the position of female journalists lies with them, because they do not educate themselves or know their basic human rights and then become an ideal breeding ground. "We have to write about it and find space in our media to raise awareness of our rights, because almost every female journalist has experienced some form of discrimination in the workplace or during work outside the newsroom," Pisarevic said.
Prof. Dr. Zarfa Hrnjić Kudozović and doc. Dr. Zlatiborka Popov Momčinović conducted a multidisciplinary study for the BH Journalists association on the position of female journalists in the BiH media and conducted research that showed that female journalists themselves perceive their position negatively, and that male colleagues do not know and do not want to talk about the position of their colleagues.
"Most of the interviewees with whom we conducted in-depth interviews are of the opinion that the position of women in journalism is worse than the position of men within the existing patriarchal values ​​and the traditional division of labor in the private and public spheres, which further complicates women's work in journalism," said Hrnjic Kuduzovic.
"Many female journalists, when they start working, encounter sexism in the workplace, and due to insufficient experience and ignorance of their own rights, they are not able to oppose it. The research showed that women mostly get acquainted with their rights only when they are exposed to their drastic violation, so it is necessary to educate female journalists in a timely manner about their rights and prevention of their violation. "- adds Popov Momčinović.

The idea of ​​forming a Network of Female Journalists in BiH was presented at the conference, which will work on a strategy for action in the coming period, and prepare a program of educating women in journalism about their human rights, empowerment through joint work and interprofessional solidarity, and inform the public about attacks on journalists and gender-based violence against female journalists.
The conference "Position and Protection of Female Journalists in the BIH Media" was organized within the Independent Media Support Program (IMEP project) and with the support of Free Press Unlimited from the Netherlands.