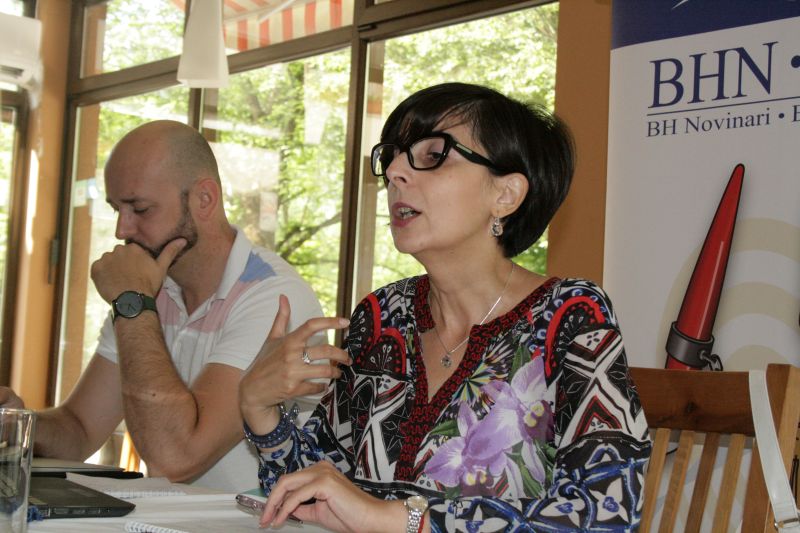 Boračko Lake, July 17, 2017 – "Reporting should contribute to understanding, not raising tensions or as an incentive for conflicts between or towards certain groups and individuals," said Prof. Dr. Lejla Turčilo from the Faculty of Political Sciences in Sarajevo as a guest lecturer at Journalism Academy 2017 on Boracko Lake.
Professor Turčilo talked to JA2017 participants about how to move away from war-inciting propaganda through the production of media content, and how to focus the media on dealing with the past, building peace and a society of tolerance.
"Fair, balanced and objective reporting is applicable only in meaningful research, because in daily reporting there is almost no room for a comprehensive report," said Professor Turčilo to the Academy participants and reminded that journalistic forms such as surveys "are often abused to encourage to certain views and opinions. "
The guest lecturer of JA2017 today was doc. dr. Seid Masnica from the Faculty of Humanities in Mostar, who explained to the participants the differences between electronic, print and online media in their approach to reporting on events from the recent war past.
In the afternoon, the participants listened to a lecture by Aldin Arnautovic, a freelance journalist and author of documentaries.
Arnautovic spoke about the process of documenting war crimes for the purpose of publishing reports in the media that talk about such topics, but also about the importance of knowledge of humanitarian law for professional reporting on topics of a common war past.
"Journalists should promote humanity through the application of professional ethics. They should also talk about exact data, from the position of facts, aware that behind those facts are human destinies ", said Arnautović at JA2017.
The guest of the thematic evening was Dinno Kasalo, the author and director of documentaries who received the most significant world awards in this film genre. Kasal's film "I'm Angry" was shown, which talks about the Ljuta River and the construction of a mini hydropower plant on it. Representatives of the non-governmental organization Center for the Environment from Banja Luka also attended the screening of the film.
The second module of the Journalism Academy 2017 dedicated to the topic "The role of the media and media reporting in strengthening peace, tolerance and stability in BiH" brought together students, journalists and editors from Sarajevo, Banja Luka, Tuzla, Bileća, Zenica, Sokolac, Brčko, Gračanica, Kalesija, Čelinac, Jablanica, Velika Kladuša, Žepče, Iljaš and Vogošća and is held with the support of the Embassy of the United States of America in BiH.