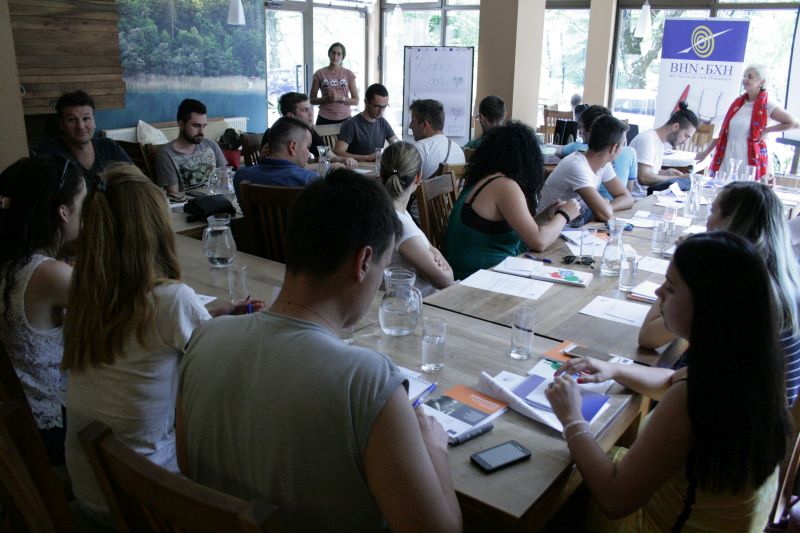 Boracko Lake, 15.07.2017. – The second module of the Academy of Journalism started today on Boracko Lake and gathered students, journalists and editors from all over Bosnia and Herzegovina.
During the five-day stay at the Academy, the participants of NA2017, 23 of them, will have the opportunity to listen to lectures by prominent professors of journalism and journalistic ethics, media professionals, international experts and civil society activists. Participants will listen to lectures on transitional justice, the application of ethical principles and codes in reports on a common past, will analyze media content under the mentorship of lecturers, and several documentaries will be shown within the academy.
On the first day of the Academy, an episode of the series "Me, Us and Others: The Spirit of Hannah Arendt" was shown, in which Israeli director Ada Uspic talks about why the famous Jewish philosopher Hannah Arendt was accused by the Jewish community after World War II of being a traitor and to lessen the horrors of the Holocaust.
The workshop brought together participants from Sarajevo, Banja Luka, Tuzla, Bileća, Zenica, Sokolac, Brčko, Gračanica, Kalesija, Čelinac, Jablanica, Velika Kladuša, Žepče, Iljaš and Vogošća and was held with the support of the United States Embassy in BiH.