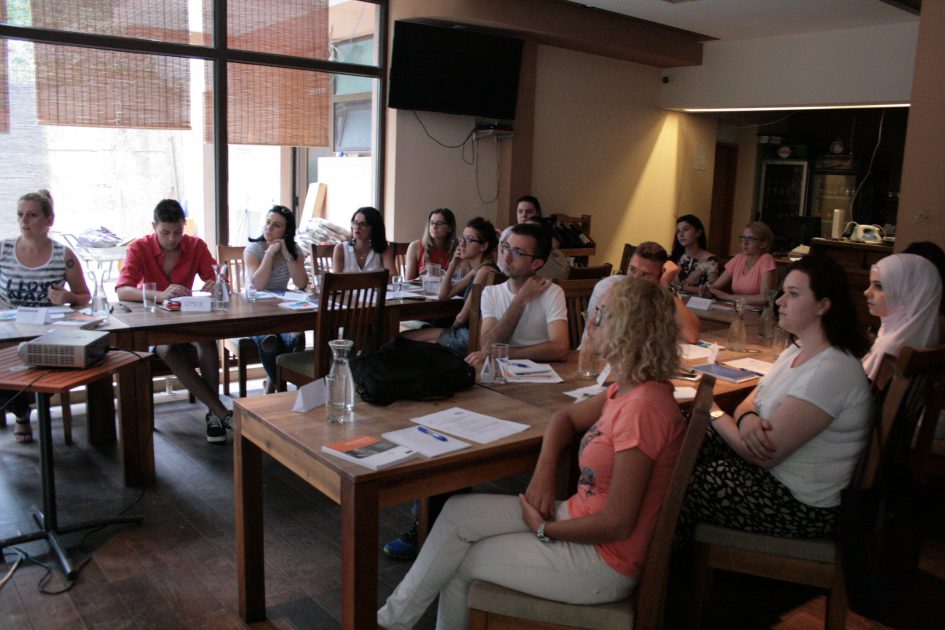 Boračko jezero, 09.07.2017-On the first day of the Journalism Academy 2017, participants had the opportunity to listen to an introductory lecture on the topic of reporting on differences, during which they had the opportunity to discuss the basics of diversity reporting, as well as techniques and methods of research related to strengthening peace, tolerance and stability in post-conflict societies.
The Secretary General of the BH Journalists Association Borka Rudić also introduced the participants to the topic of human rights in the media and how the media can contribute to respecting human rights, interests and needs of all social groups in society based on the exclusivity of majority rights.
Vesna Begtašević, a journalist from Konjic, spoke with the participants of the academy, who explained how journalists can deconstruct the political, national, religious, discriminatory and reduced approach to the presentation of human rights through media content.
An episode of the series "Me, Us and Others: The Spirit of Hannah Arendt" was shown at the Academy, in which Israeli director Ada Uspic talks about why the famous philosopher of Jewish origin Hannah Arendt was accused by the Jewish community after World War II of being a traitor and to lessen the horrors of the Holocaust.
The Journalism Academy 2017, a workshop for journalism students and young journalists, started today at Boračko Lake, and the topic of the sixth module is "The role of the media and media reporting in strengthening peace, tolerance and stability in BiH."
The workshop gathered about 20 journalism students from Sarajevo, Tuzla, Zenica, Kakanj, Mostar, Bugojno, Brcko, Visoko, Bosanska Krupa, Vitez and Travnik, and during their five-day stay at the Academy they will have the opportunity to listen to lectures by prominent professors of journalism and ethics, media professionals , international experts and civil society activists.