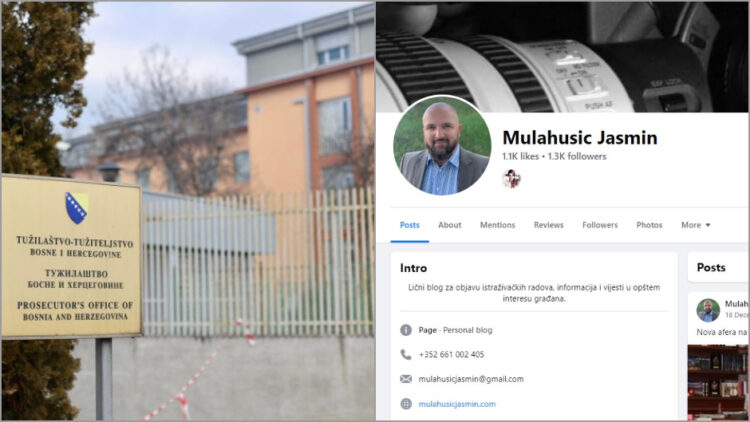 Sarajevo/Banja Luka, 23.03.2023. – The Steering Committee of the BH Journalists Association requests the Prosecutor's Office of Bosnia and Herzegovina to finally make prosecutorial decisions in the cases and investigations conducted against Jasmin Mulahusić due to the spread of national and religious intolerance, hate speech, threats and negative propaganda against journalists on social networks!
The latest, monstrous threats and insults received and published on her Twitter account by Al Jazeera Balkans journalist Dalija Hasanbegović – Konaković require urgent prosecution not only of Jasmin Mulahusić, but also of all other persons who, provoked by his posts, openly spread hatred, threaten and incite against these journalists. Also, insults against children and other family members of journalist Hasanbegović-Konaković represent a brutal violation of the right to privacy and protection of family integrity, protected by Article 8 of the European Convention on Human Rights and Fundamental Freedoms.
If Mulahusić himself, due to the fact that he lives in Luxembourg, is currently unavailable to the prosecuting authorities in Bosnia and Herzegovina, we believe that the police and prosecutors' offices can at least identify and investigate the other persons who have been sending threats to Dalija Hasanbegović-Konaković and her family from their Facebook accounts for months, as and numerous other journalists in Bosnia and Herzegovina.
From 2020 until today, the Free Media Help Line (FMHL), which operates within BH Journalists, has reported to the competent institutions – the police and prosecutor's offices in Sarajevo Canton and at the state level – as many as 15 cases related to threats and the spread of hate speech by Jasmin Mulahusić and his followers on Facebook. Prosecutor's offices have so far rejected five reports, with the explanation that there are no elements of a criminal offense. The Prosecutor's Office of Bosnia and Herzegovina announced in September 2021 that they had opened an investigation against Mulahusic, but they still do not say when and if charges will be filed. The State Prosecutor's Office confirmed to the media that they are working on several cases related to Jasmin Mulahusic, but did not want to provide any additional information and details.
With full respect and understanding that certain details cannot be disclosed to the public in the interests of the investigation, the Steering Committee of BHJA considers the silence, slowness and ineffectiveness of the actions of the Prosecutor's Office of BiH in the aforementioned cases unacceptable. We demand from the chief prosecutor of the Prosecutor's Office of BiH, Milanko Kajganić, to analyze the actions taken so far by the acting prosecutors, and to inform the public at what stage these investigations are and when prosecutorial decisions will be made.
Inaction by institutions in these cases only further encourages attackers to threaten and spread hate speech with impunity!
Steering Committee of the BH Journalists Association