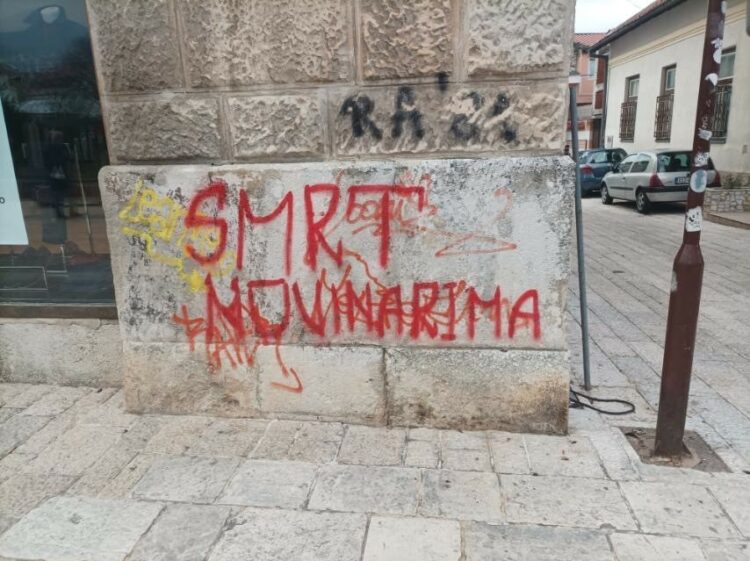 Shameful graffiti in Mostar    Source: N1
Sarajevo/Banja Luka, 28.12.2022. – The Steering Committee of the BH Journalists Association calls on the city authorities of Mostar and the Police of Herzegovina-Neretva Canton to take all legal measures so that graffiti containing hate speech against journalists is removed as soon as possible, and the perpetrator or perpetrators are identified and sanctioned.
As numerous media published yesterday, a graffiti "Death to journalists" was written in red paint on the wall of a building in Braće Fejića street in Mostar. The existence and tolerance of graffiti containing the message "Death to journalists" can not only represent a security threat for all journalists and media outlets, but it's also an inadmissible way of publicly expressing attitudes towards journalists or any other citizen of Mostar.
The Police and the City Administration of the City of Mostar have a public obligation and legal responsibility to remove all signs with hate speech, including the aforementioned graffiti. In this context, the explanation given yesterday to the media by the spokesman of the MUP HNK Ljudevit Marić that "graffiti was there earlier, but there was a vehicle parked next to it so it was not noticeable", is particularly unacceptable.
The Steering Committee of the BH Journalists Association expects that by urgently removing the graffiti and finding the persons responsible for this shameful act, the competent institutions in Mostar will show that hate speech, regardless of who it is directed at, cannot and must not be tolerated.
The Free Media Help Line (FMHL), which operates within BH Journalists Association, during 2022. registered an increase by as much as 137% of hateful messages towards journalists, hate speech and death threats.
 Steering Committee of BH Journalists Association