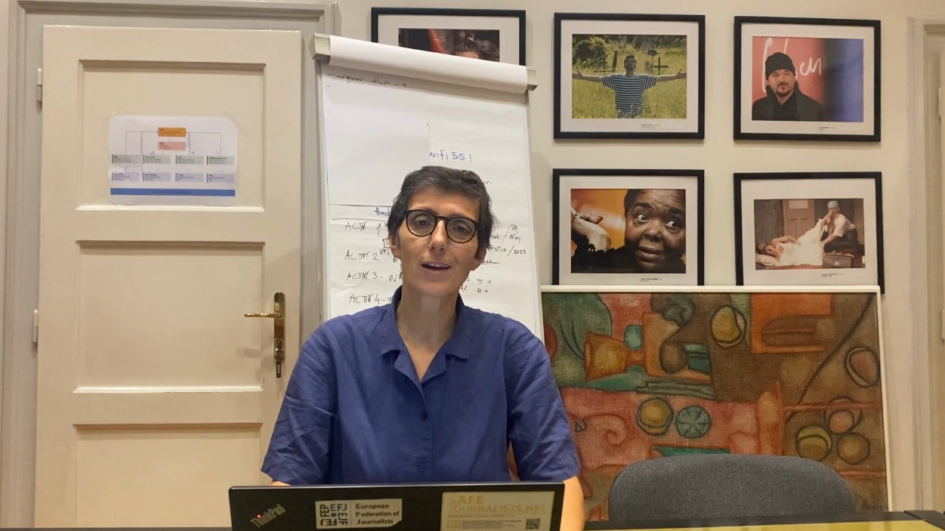 Banja Luka, 15.11.2022. – Lawsuits against editors and journalists for defamation and SLAPP's are currently the biggest threat to media freedom in the entire region, said the president of the European Federation of Journalists (EFJ) and the president of the Union of Journalists of Croatia, Maja Sever, during her address at the training for journalists in Banja Luka, organized by the BH Journalists Association and with the support of Internews.
"I don't know how many of you know, but Croatia is, unfortunately, the infamous champion in terms of SLAPP lawsuits, in terms of pressure from political and other powerful people on journalists through groundless lawsuits, which exhaust journalists and endanger their work. I invited journalists to send me a short video about how attacks and insults affect their work. In those videos, many colleagues said that insults and threats to journalists are unacceptable, but that the SLAPP lawsuits they are being bombarded with are much more painful and a severe blow to their freedom of work. Not only because of the fear that they will lose and have to pay hundreds of thousands, but journalists nowadays lose days in courts. When one newsroom and one journalist receive two, three, five, ten, thirty lawsuits, you constantly have to go to court hearings, often in another city. Simply, people are completely exhausted", says Maja Sever.
Being a witness at trials is also a very stressful experience for journalists, says Sever: "I'm often a witness at trials. It's a terrible experience for me, regardless of the fact that I am not being sued. All day long you are somewhere in a court, in an atmosphere that is neither pleasant nor friendly, with an uncertain outcome for your colleague."
According to her, when it comes to defamation lawsuits and SLAPP's, it is necessary to establish a better education system for journalists, on the one hand, and judges and all people who are part of the judicial system, on the other hand.
"In everyday processes, ignorance of journalistic work, ignorance of the environment and the media, leads to sometimes absurd lawsuits. In Croatia we have, for example, a case where a media outlet lost a case that was a pure SLAPP because they published the truth, but that truth caused 'mental pain' to the plaintiff and in the end that media outlet lost. So it's an awful lot of pressure and how do we fight together? Well, let's say, through educations like the one you are on today. Better cooperation. Cooperation with international institutions", emphasized Sever.
She added that the European Federation of Journalists, in cooperation with the organization Media Freedom Rapid Response, provides support to journalists who are exposed to SLAPP lawsuits, including legal and financial aid.
"I can say that judges are already a little more aware of what is a SLAPP and what is not a SLAPP. It's still difficult for us, we're still under attack, but the public and those who make decisions have actually realized that there are a number of pressures and attempts to censor journalists and the media precisely through SLAPP lawsuits. At the same time, we have an increase in violence and attacks against journalists, which also limits our work", said the EFJ president.
It is necessary to improve the cooperation between the media, media organizations, police and prosecutor's offices with the aim of more efficient processing of attacks on journalists. Also, media outlets should establish a risk assessment, support their journalists who are victims of attacks and provide them with adequate psychological support, concluded Maja Sever.