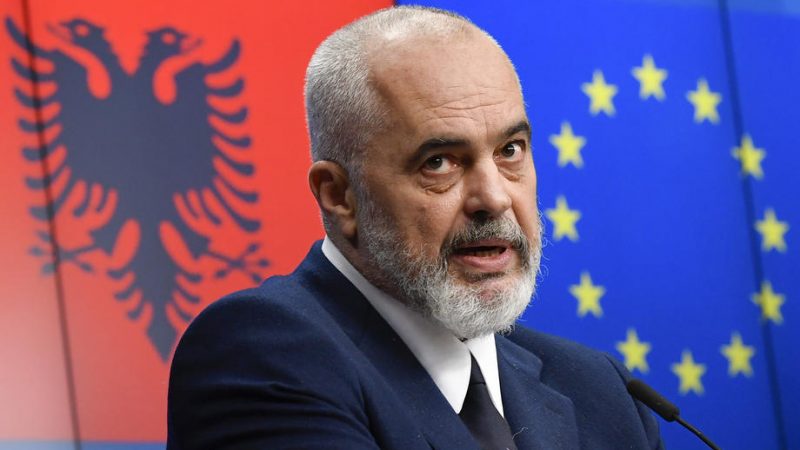 Last Friday, 1st of July, during a press conference with journalists, Prime Minister of Albania Edi Rama told Klevin Muka, journalist of A2 CNN TV station (affiliate of CNN in Albania) that he is not allowed to attend any other press conferences of the Prime Minister for the next three months and must be sent to "re-education" for what Rama considers unethical behavior on the side of journalist.
Klevin Muka asked Minister Olta Xhaçka about her conflict of interest as a minister and her husband as a strategic investor of the government of Albania in the tourism sector. Rama did not allow the Minister to answer, instead, he publicly designated the journalist as not welcome in future conferences.
The representative of SafeJournalists Network in Albania Blerjana Bino explained that this is the second time that Rama does the same to journalists during press conferences when he does not like the question.
"The PM denied the reporter the right to receive an adequate answer for a very good question of public interest. The question of Klevin, if answered, would have allowed the Minister Xhaçka and PM a window to shed some light on the issue of conflict of interest and provided the public more transparency on the matter at hand. Instead, yet another time, the PM chose arrogance over transparency and closing the door to journalists, particularly good ones", said Blerjana Bino about this case.
She was also concerned about the lack of journalist solidarity during the conference.
"However, now the media community and independent organisations and CSOs are rallying behind Klevin in an effort to support critical and independent quality journalism. We definitely need more solidarity among journalists in Albania and broader alliances for media freedom", Bino concluded.
SafeJournalists Network, representing more than 8,200 media professionals in the Western Balkans, strongly condemns the behavior of the Prime Minister of Albania. Politicians should stop accusing journalists of "unethical behavior" when they do not like questions. We remind them that they are obliged to answer all questions of public interest, and not to withhold answers. Public office shall be obliged to be subjected to a higher degree of critical opinions that pertain to the results of their work in relation to performing their function.
Each attack on journalists is an attack on public interest, democracy and rights of all citizens.
Pristina – Skopje – Sarajevo – Zagreb – Belgrade – Podgorica – Tirana, July 4, 2022
Association of Journalists of Kosovo
Association of Journalists of Macedonia
BH Journalists Association
Croatian Journalists' Association
Independent Journalists Association of Serbia
Trade Union of Media of Montenegro