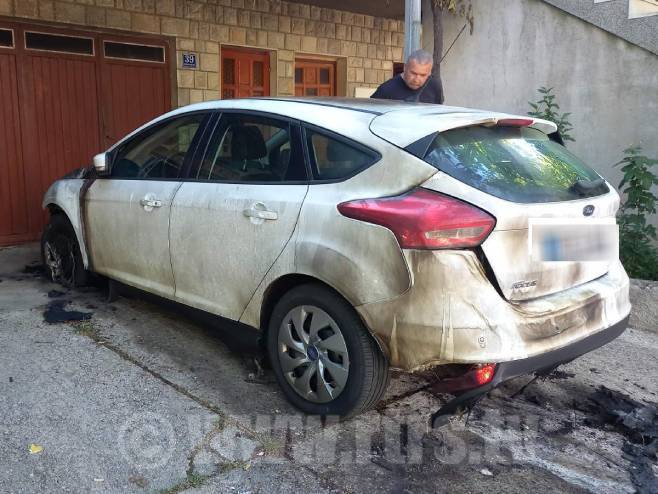 Photo credit: RTRS
Sarajevo / Banja Luka, June 15, 2022 – The Steering Committee of the BH Journalists Association and the Free Media Help Line (FMHL) strongly condemn the burning of a car owned by RTRS journalist Natasa Miljanovic-Zubac, which took place last night in Trebinje, and demand that the authorities urgently investigate the case, find and arrest the perpetrator or perpetrators.
As reported by the Police administration of Trebinje, the Police station Trebinje on June 15, 2022, at around 03:45, reported that there was a fire on a parked passenger vehicle Ford owned by N.M.Z. from Trebinje. The fire was extinguished by members of the Territorial Fire Brigade of Trebinje. The duty prosecutor of the District Prosecutor's Office of Trebinje was informed about the case.
An investigation and determination of the circumstances of the fire is in progress.
We remind that in February last year, journalist Natasa Miljanovic-Zubac was the victim of verbal attacks and insults publicly directed at her by Vojislav Seselj, leader of the Serbian Radical Party. For this case there is currently a process at the court in Belgrade.
The Steering Committee of BH Journalists and the Free Media Help Line express deep concern over this latest attack on RTRS journalist from Trebinje. Attacks on journalists, especially those manifested through vandal acts of destruction of their personal property, pose the greatest threat to media freedom in a democratic society and bring fear and insecurity to the entire journalistic community.
BH Journalists and the FMHL expect the police and Trebinje District Prosecutor's Office to give the highest priority to this case, and to send a message to the entire public by conducting an efficient and detailed investigation that such attacks will not and must not go unpunished!
BH Journalists and the Free Media Help Line will also inform all relevant domestic and international institutions about this case.
BH Journalists Association/Free Media Help Line