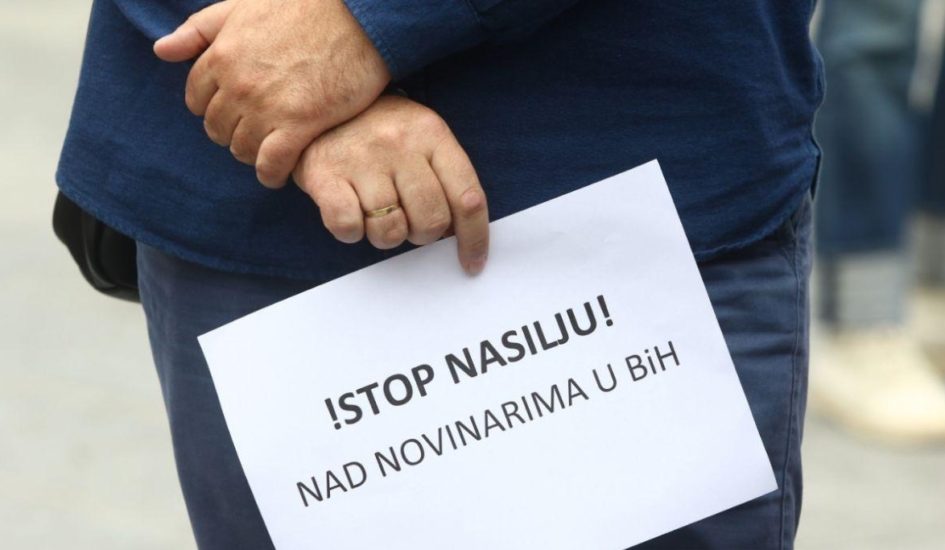 Sarajevo, May 3, 2022 – Journalists in Bosnia and Herzegovina are exposed to increasing pressure, threats and intimidation, which often come from politicians and representatives of institutions from different levels of government, according to the BH Journalists Association and the Free Media Help Line (FMHL).
In 2021, FMHL registered 71 violations of journalistic rights and media freedoms in BiH. There were 3 physical attacks on journalists and media employees, 6 attacks and threats against media outlets, and 17 death threats against journalists, as well as verbal and other forms of threats and political pressure on journalists and the media. Also, 8 cases of threats and violence against female journalists were registered, three more than in the previous year. The number of cases of threats to journalists via social networks and online violence against journalists has increased.
A certain progress has been made on prosecuting threats and attacks on journalists. In the period from January to the end of December last year, through legal team of the Free Media Help Line, a total of 11 cases were resolved in favor of journalists, which is the largest number so far in one year.
According to the annual research on the level of media freedom and safety of journalists, conducted by BH Journalists within the Western Balkans regional network of journalists' associations – Safejournalists, there have been a number of reports in recent years on banning access to information and non-transparent treatment of journalists and media by politicians and representatives of the institutions. Politicians have been very active in trying to control editorial policies and create media content. Such negative influences have been recognized by organizations such as Reporters Without Borders – their 2021 report highlighted "manipulation of the media for political purposes, especially in public broadcasters". The latest report from the European Commission for BiH states that "high-ranking politicians resorted to public attacks and disparaging remarks against journalists, analysts and media workers, especially women." Authorities continue to downplay this issue, and public institutions are not collecting data on threats and attacks on journalists and media workers.
This year's survey on media freedoms in BiH from the perspective of citizens, conducted by BH Journalists and Friedrich Ebert Stiftung, showed that citizens of BiH trust the media (80%) and religious institutions (70%) the most, while political parties and politicians have the least trust from citizens. The majority of respondents believe that media freedom in BiH is not present at all or is partially present, and two thirds of citizens believe that political dependence is a major obstacle to the work of the media in BiH.
Every tenth respondent believes that an attack on a journalist can be justified – which is 15% less than in 2021.
On the occasion of May 3, the World Press Freedom Day, BH Journalists once again emphasize the need to improve legislation in order for journalists to do their job in a safe and free environment. In this regard, we welcome the initiative of a group of MPs in the State Parliament to commit the Council of Ministers to submit amendments of the Criminal Code to the parliamentary procedure, which will treat attacks on journalists as a separate criminal offense. This initiative is the result of years of lobbying by the BH Journalists Association, which in 2019 sent amendments to criminal laws to government officials at all levels, in order to nominally introduce journalists to the law as a profession that should be more effectively protected from attacks and other crimes.
BH Journalists Association – Free Media Help Line