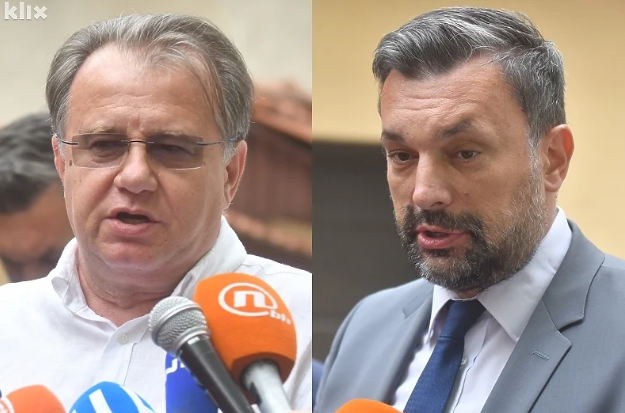 Sarajevo, April 14, 2022 – The Steering Committee of the BH Journalists Association expresses a public protest against the extremely inappropriate and insulting behavior of the presidents of the Social Democratic Party of BiH (SDP BiH) and People and Justice (NiP), Nermin Nikšić and Elmedin Konaković, towards media representatives in Canton Sarajevo.
As N1 TV Sarajevo portal reported, in a very arrogant way, SDP president Nermin Nikšić stopped N1 journalist Sunčica Šehić on the way out of the hall today after a press conference, grabbing her hand, and repeated several times that she was "lame" because of the question she asked at a press conference. President of NiP party Elmedin Konaković didn't like reporter Šehić's questions either, telling her that she was "nervous" and "angry because she left TVSA" (media outlet she worked for before), so that's why she is "lashing out on him".
Inappropriate attitude towards journalists is not foreign to the prime minister of Canton Sarajevo and the president of Naša stranka Edin Forto either, who recently, as a guest on TVSA in the show "Polis", angrily said to the journalist: "Do you hear yourself what you're asking?!"
Instead of answering journalists' questions, representatives of the government and political parties that are part of the ruling coalition, but also from the opposition, increasingly react with insults and humiliation of journalists who only seek answers to questions on topics of public interest, that directly concern the citizens of Canton Sarajevo and BiH. We would like to remind Nikšić, Konaković and Forto that the basic task of journalism is to critically reports on the actions and decisions of the government and all public officials, and to contribute to greater public accountability and transparency of elected officials.
Particularly indicative and worrying is the fact that the named politicians in these cases in a primitive way and with a misogynistic vocabulary treated female journalists who, in addition to professional violence, are most often exposed to verbal violence because they are women. According to the Free Media Help Line (FMHL), close to 70 attacks and threats against female journalists in BiH have been registered in the last three years. That number speaks of a rapid increase in gender-based violence against female journalists, and it's alarming that politicians and other public officials are among the attackers in almost half of the cases.
The Steering Committee of BH Journalists once again reminds the representatives of the political parties from the government and the opposition in Sarajevo Canton that it is their right not to answer journalistic questions that, for whatever reason, they do not want to answer. However, insults and humiliation of journalists are an absolutely inadmissible way of communicating with media representatives, thanks to which, in the end, the messages and attitudes of these politicians reach the citizens.