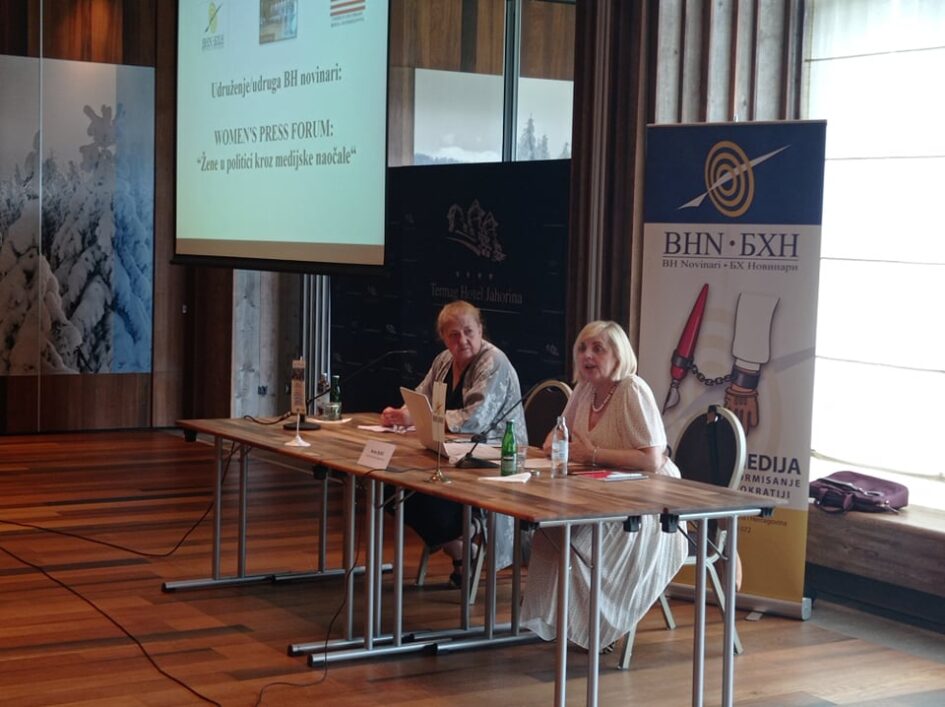 Jahorina, July 15, 2021 – "Women in politics through media glasses" is the topic of a two-day conference that began today in Jahorina, organized by the BH Journalists Association and within the project Women's Press Forum, and with the support of the United States Embassy in BiH.
The conference brought together women politicians, editors, journalists with the aim of raising public awareness of the importance of women's visibility in media content, as well as the importance of quality programs that politicians can offer in election campaigns compared to their male counterparts.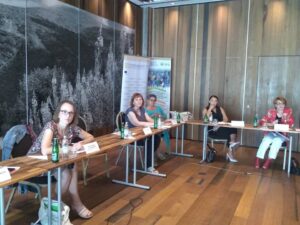 As the Secretary General of BH Journalists Borka Rudic pointed out, this forum represents a new program activity of BH Journalists Association, which has been monitoring the representation and manner of representing women in the media during election campaigns for years.
"We believe that the topic of greater presence of gender equality in media content is extremely important for building a value system in BiH that will enable the voice of women to be heard more and better in the public communication space. We hope that this can contribute to a greater choice of women for positions in the legislative and executive positions", said Rudic.
The president of BH Journalists, Marko Divkovic, says that on the political scene of BiH women are still few and barely noticeable.
"The intensity of their media representation is relatively pale and most often fits into the representation of their political parties, while their concrete contribution is not visible. The public perception of women in political life is nowhere near their role and significance. However, women often refuse the opportunity for promotion and leave it to men, which is then a problem for the media as well", said Divkovic.
Member of the Presidency of the SDP BiH, Besima Boric, says that women in BiH have managed to build certain mechanisms in the past 20 years in order to improve their visibility in public space.
"The struggle for equality and visibility of women is happening in Dayton BiH, which has risen to the pedestal ethnonationally above everything else, so the question is how much gender equality in such a society has a chance of success. However, we fought for certain legal quotas and political parties still got involved in that story, although it was not particularly emphasized, and in practice there are very frequent examples of avoiding or selective application of these mechanisms, "said Besima Boric.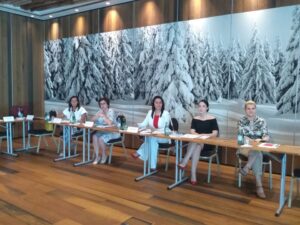 She added that it is necessary to work on the deconstruction of the patriarchal model, primarily through the education system. Although the borders have been solidly moved, we are far from an equal understanding of the engagement and importance of women in political life, concluded Boric.
Jadranka Milicevic from CURE Foundation says that the key problem is that the Law on Gender Equality is not applied.
"We have very good legal regulations but the problem is their non-acceptance, not only when it comes to gender equality, but also in many other areas. As long as some impose on us that we have 'women's' issues, and not civil issues, we will remain in this position of invisibility and non-acceptance of our initiatives", Milicevic emphasized.
She added that during election campaigns, women usually come into the public spotlight in a negative context when they are attacked and insulted, especially on social networks.
According to Vildana Dzekman from the BH Journalists Free Media Help Line, in the 2020 local elections there were a total of 396 men and only 29 women candidates for mayors.
"The media very often focus only on these numbers and rarely investigate the background of women candidates in elections, while parties in campaigns give preference to men. Women candidates appeared in only 3% of the analyzed media content in the last elections and out of a total of 2,119 news items, only 64 focused on women," says Dzekman.
MP and member of the Commission for Gender Equality of the Parliamentary Assembly of BiH, Mirjana Marinkovic Lepic, said that women should first fight for equality in the family, and only then in politics. Speaking about her own experience of media presentation, Marinkovic Lepic said that public services rarely invited her to be a guest in their programs.
"As for the representation and respect of women within Naša stranka, of which I am a member, I think we can be satisfied in that segment. However, we do not have content in the media that would especially affirm politicians and what they do", she said.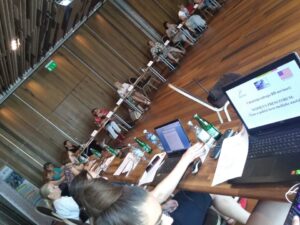 They say that when a woman joins a political party, she asks what she should do, and the man asks where will he be appointed for the director, said the mayor of Jezero Municipality, Snezana Ruzicic (SNSD).
"There are many women in important positions in my political party and attention is really given to women candidates in the elections. However, I think that women must impose themselves especially when it comes to public media and demand that space that belongs to them by law. We have to be aware that men are in positions of power where that media space is paid for and we also have to be educated for public and media appearances ", says Ruzicic.
Alma Kratina (DF), a member of the House of Representatives in the FBiH Parliament, says that when it comes to women's visibility, the problem is not only in political parties, but also in the media themselves.
"We live in a society full of terrible prejudices and stereotypes, in a patriarchal society in which female children are declared less valuable than male ones. Women who have done something in politics are very often thought to be 'pushed' by some man and to fail on their own. I think we women are to blame for the fact that we are not visible enough in the media", said Kratina.
Alisa Hajdarevic (SDA), a delegate in the House of Peoples in the FBiH Parliament, believes that women in the media are often viewed as objects, through their physical appearance, and rarely by what they say and the weight of the function they perform.
"There are gender stereotypes in the media and women are most often invited to talk about some gender-sensitive topics. You will rarely see a media outlet call a woman for an interlocutor when it comes to defense, security, and the like. However, even when they get the opportunity to speak in the media, women often avoid it and leave it to their colleagues ", says Hajdarevic.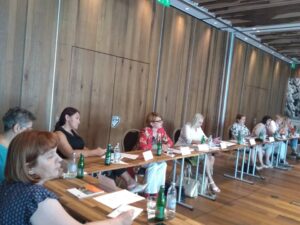 UNDP project manager Lejla Ramic-Mesihovic presented the informal group "Leaders for Development" and the project "Women in Elections" while prof.dr. Amila Zdralovic from the Faculty of Law of the University of Sarajevo spoke about the participation of women in political life through a research-academic framework. The panelists stressed the need to do more to promote women's leadership and conquer their own space in political life.
"Political representation is an extremely complex and elusive concept from the scientific, academic side. It is a concept that implies that different voices and perspectives are heard in any public space. At the same time, it is extremely important how the actors speak and especially how they act on behalf of other individuals they represent", Zdralovic emphasized.