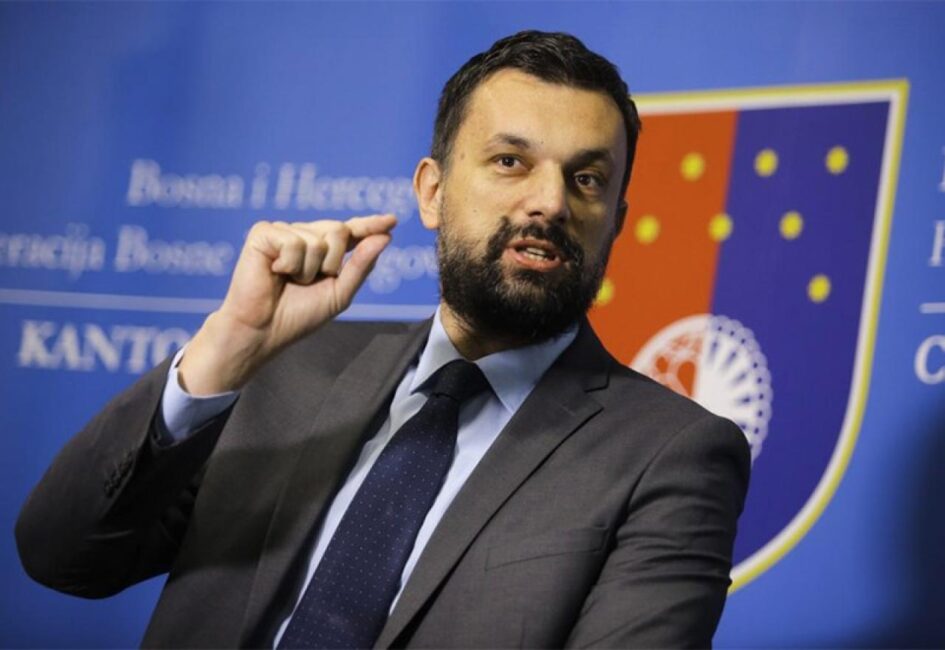 Sarajevo, June 24, 2021 – The Steering Committee of the BH Journalists Association strongly condemns the accusations made against journalist Avdo Avdić on social networks by Elmedin Konaković, president of the political party People and Justice (NiP) and a member of the Sarajevo Canton Assembly.
After a bomb was thrown in Sarajevo in the early morning hours of June 23 on the "Foto Art" company premises, owned by Gordan Memija, the president of the People and Justice Elmedin Konaković and Memija himself in their social media posts linked the attack to the articles of journalist Avdo Avdić, who reported on the alleged connection between Memija and members of the drug cartel "Tito and Dino". Konaković even openly wrote on Facebook that he considers the director of Intelligence Security Agency of BiH Osman Mehmedagić, journalist Avdić "and their commanders" responsible for the attack. We note that the police are investigating the case and for now it is not known who is behind this attack.
The Steering Committee of BH Journalists believes that the allegations made by NiP president Konaković represent direct pressure on journalist Avdić and a threat to his safety, as well as a brutal threat to media freedom and the work of investigative journalists in Bosnia and Herzegovina. It is inadmissible for the president of a political party, which currently forms power in Sarajevo Canton, to publicly "call out" and target a journalist in this way, without any evidence or argument that would support his claims that Avdić had anything to do with the bombing.
As a public figure and a person who has held high political positions in Sarajevo Canton for years, Konaković should refrain from such flat accusations that directly endanger the safety of journalists and seek to silence critical and investigative media coverage. Instead of waging private battles on social media against journalists whose reporting he dislikes, the president of the People and Justice should also know that there is a Defamation Protection Law in Bosnia and Herzegovina that allows him, as well as any other citizen, to file lawsuits against journalists and the media for which he considers they publish false information, and in that way legally obtain the desired satisfaction. Also, if he has evidence that the journalist has anything to do with a crime, including the bombing of Gordan Memija's property, it is Konaković's duty and obligation to submit that evidence to the competent authorities conducting the investigation.
Any other way and attempt to "deal" with journalists, especially when it comes to politicians, is unacceptable in a democratic society and represents open political pressure on the work of the media.
The Steering Committee of BH Journalists will do everything in its power to protect colleague Avdo Avdić, as well as all other journalists in BiH, from verbal and online attacks by political officials who "target" them because of their work. According to data from the Free Media Help Line (FMHL), politicians and other officials are responsible for almost a third of attacks on journalists in Bosnia and Herzegovina, and the number of such attacks is growing every year.
The Steering Committee of the BH Journalists Association